YOGA COURSE
LESSON 7
56) QUADRANGULAR POSE (CHATUSHKONASANA)

Exhale and bend over, shoulders back, arms relaxed. Keep 10 breaths. Tones the abdominal and back muscles, strengthens the spine.
---
57) MONKEY POSE or LOW LUNGE (ANJANEYASANA)

Starting in the knee. Bend one leg. Inhaling raise the arms straight by bending slightly forward. Top look. Hold 5-10 breaths. Repeat for other side. Improves breathing, elasticises the spine, tones the whole skeleton, slims.
---
58) NATARAJ POSE (NATARAJASANA)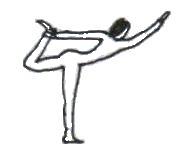 Grasp the ankle and exhaling slowly bend the torso. Hold 5-10 breaths then on the other leg. It tones the muscles of the legs, arms and torso. Elasticises the spine. Aids digestion and balance.
---
59) INTENSE STRETCH POSE (UTTANASANA)

Exhale and bend. Hold 5 breaths. Stimulates the pituitary gland. It tones the abdominal organs, elasticises the spine.
---
60) POSE OF THE TIGER (SARDULASANA)

The second position while inhaling, while exhaling the third. Repeat several times. It tones muscles, abdominal organs and spine. Good for those with back pain.
---
61) FEROCIOUS POSE (UGRASANA)

Exhale and bend. Stimulates all chakras so has a positive effect on the whole body. Possibly hands under the plant of the feet.
---
62) TWIST OF THE SAGE MATSYENDRA (ARDHA MATSYENDRASANA)

Left leg over the right, right heel near the left thigh. Turn your torso to the left and pass the right hand under the left leg. Try to tie your hands behind your back. Hold 5-10 breaths and then repeat on the other side. It will not be easy to fasten your hands, and if you are unable to do it hold the position anyway. Do not perform with a herniated disc. Aids digestion and is good for the whole body.
---
BREATHINGS (PRANAYAMA)
12) BREATHINGS ON CHAKRAS
Starting from Muladhara Chakra, inhale deeply concentrating on the chakra, exhale uttering the mantra of the chakra in question. 5 breaths and then switch to the higher chakras.
---