AYURVEDA
THE 96 ASPECTS OF LIFE - 3 DOSHA - QUALITY OF THE 3 DOSHA - PHYSIOLOGICAL FUNCTIONS - EFFECTS ON BODY AND MIND
TROUBLES CAUSED BY VATA - TROUBLES CAUSED BY PITTA - TROUBLES CAUSED BY KAPHA
REMEDIES AND THERAPIES FOR VATA - REMEDIES AND THERAPIES FOR PITTA - REMEDIES AND THERAPIES FOR KAPHA
CHART OF THE CONSTITUTION - DIETS - RASA - VATA CONSTITUTION - PITTA CONSTITUTION - KAPHA CONSTITUTION
PHYSICAL EXERCISE - AROMATHERAPY - MASSAGE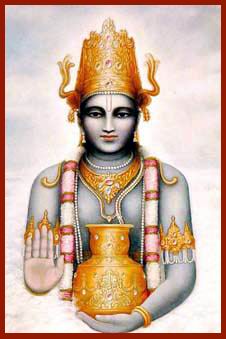 Dhanvantari
In this section some fundamental principles of the ancient Indian medicine Ayurveda.

Ayurveda is the composition of two sanscrit words Ayur life and Veda knowledge, its meaning is therefore science of life. The tradition wants the teachings of this ancient medicine to be reached by the Avatar (divine incarnation) Dhanvantari.
It is an ancient system which was improved during the course of time that drew its principles from the Vedic knowledge. It has been widely used in India over the millennia and is still one of the medicines most commonly used in the Indian subcontinent.
Ayurveda is a medicine which deals man in his physical, mental and spiritual aspects, trying to heal the sick, prevent disease and maintain our own equilibrium state.
According to Ayurveda the universe is governed by 5 elements: EARTH - WATER - FIRE - AIR - ETHER. In our body these elements govern the 3 Dosha, the physical structure and the 3 Guna the mental structure.
The balance of all these elements determines the state of health.
In Ayurveda are described seven types of tissues of the body, known as saptadhatu. It is plasma (rasa dhatu), blood (Rakta dhatu), meat (mamsa dhatu), adipose tissue (medha dhatu), bone (asthi dhatu), the marrow and the nervous system (majja dhatu), and reproductive tissue (semen or female reproductive tissue) (sukra dhatu).
The eight branches of Ayurveda are:
Internal medicine (Kaya-cikitsa)

Paediatrics (Kaumrabhṛtyam)

Surgery (Shalya-cikitsa)

Opthalmology and Otolaryngology (Shalakya tantra)

Psychiatry (Bhuta vidya)

Toxicology (Agadatantram)

Prevention of diseases, improving immunity and rejuvenation (Rasayana)

Aphrodisiacs and improving health of progeny (Vajikaranam)
Ancient Ayurvedic books:
---
According to the Siddha tradition there are 96 aspects of life supported by the individual soul, the Purusha.
Life is lived through the 5 motor organs, Pancha Karmendriya, which correspond to the 5 senses and the 5 elements.
Mouth (expression) – hearing – ether

Hands (grab) – touch – air

Foot (move) – sight – fire

Urino-genital organs (emission) – taste – water

Anus (elimination) – smell – earth
The organs of action allow acting in the physical world and then allowing the mind to make new experiences. They are expressive and their receptive capacity is given by the sense organs. The organs of action are more related to the five gross elements while the sense organs correspond more to Tanmatras or thin elements.
Given that requires movement, the body has five hollow organs, 5 Asayas.
Colon

Intestine

Stomach

Bladder

Ovary / Prostate
The Asayas are important because the body needs energy that is forfeited through food to generate movement.
All of us live by 5 types of actions:
With the mouth we talk and eat

With arms we take and give

With legs we go

With the genitals we reproduce

With the excretory organs we eliminate
The 5 actions of the body, walking, working, talking, release and procreating, are governed by Tridoshas derived by Pancha Mahabhutas.
Vata – movement

Pitta – nourishment

Kapha – rest
All matter consists of the five elements, Pancha Mahabhutas, which are understood as levels of density of matter itself.
Ether – Akasha

Air – Vayu

Fire – Tejo

Water – Jala

Earth – Pritvi
The elements are the means which are necessary for the expression of Cosmic Intelligence.
Ether: manifests the idea of space, communication and expression

Air: manifests the idea of time, of the change and provides the basis for thought

Fire: manifests the idea of light, perception and movement

Water: manifests the idea of life, liquidity and flowing movement

Earth manifests the idea of form, solidity and stability
To have the experience of the outside world need the 5 sensory organs, Pancha Jρanendriyas; each of them corresponds to a quality of sense (Tanmatra) and an element
Ear – hearing organ – ether
Skin – organ of touch – air
Eye – organ of sight – fire
Tongue – organ of taste – water
Nose – organ of smell – earth
The sense organs, also called organs of knowledge, allow the experience of the outside world. It is noteworthy that through the sense organs we can assimilate the Pancha Tanmatras as subtle elements then they feed on a subtle level; that's why there is the Vedic dictum "what you see, you become."
The sensory organs are generated by the 5 senses, Pancha Tanmatra, derived from the interaction of Sattva, Rajas and Tamas.
Shabda – hearing – ether
Sparsha – touch – air
Rupa – sight – fire
Rasa – taste – water
Gandha – smell – earth
I Pancha Tanmatra creano i mondi manifesti in forma di seme; essi creano il mondo causale o ideale, il mondo delle idee che precede qualsiasi forma di espressione materiale.
Senses work through the 10 Vayus.
Udana Vayu – is the energy of the throat that governs Word, self-expression, body growth, the ability to stand and make efforts, enthusiasm and willingness.
Apana Vayu – goes down and ejects, goes out and governs the elimination at all levels. Apana, which is the basis of immune function, is the vital energy of the lower part of the abdomen.
Naga Vayu – responsible for the expulsion from the mouth and nose. Nagan is instinctive; it is the movement responsible for protecting the body's defense. For example, in case of wind eyes are closed instinctively.
Kurma Vayu – responsible for the hiccups and swallow reported not only to food but also to situations, feelings, duties that don't like, etc.
Dhananjaya Vayu – responsible for joints creaking and contractures, the yawning and burping, helps rid the body of harmful gas residue. For example, when the prana becomes of poor quality, we yawn.
The Vayus flow through 12 main Nadis.
Brahma Nadi which are related chakras along the spine and brain.
Citra and Vajra Nadis creating Viyana Vayu and are linked to the cerebellum, spine and peripheral nerves.
Ida, Pingala and Jiva Nadis that result in Udana and Prana Vayus and are related to the lungs, heart and thyroid.
Pusha and Gandhari Nadis creating Samana Vayu and are linked to the stomach, small intestine, pancreas, spleen and liver.
Hasti and Alambusha Nadis that, along with Shankini and Kuhu Nadis, originate Apana Vayu and are related to the reproductive organs.
Shankini and Kuhu Nadis related to the colon, kidneys and bladder.
The 12 Nadis branch out from 3 Mandalas (centers).
Vayus, Nadis and Mandalas are ruled by the 7 Chakras.
The chakras are located along the spine and are the seven major energy centers in the human body; each of them corresponds to specific features in both physical and spiritual.
Manipura Chakra – Light of the jewels. It is located at the navel in the cavity of the abdomen; represents Karma, fate, and its element is Fire. The practice on Manipura facilitates metabolism, digestion, assimilation and elimination.
Ajρa Chakra – Dominance. Its name means knowing, sensing and control. It is located in the cranial cavity, in the middle of the forehead, and represents the mind. The practice on this chakra helps to think and analyze giving clarity.
The 7 Chakras derive from 5 types of bodies, Pancha Kosham.
Anna Maya Kosham – It is the physical body nourished by the food, it contains everything from soul to mind, etc.

Prana Maya Kosham – It is the energetic functional body that is nourished through the breath; without prana there is no life.

Mano Maya Kosham – It is the mental body that is nourished with thoughts.

Vijρana Maya Kosham – It is the intellectual body which is fed by knowledge and wisdom.

Ananda Maya Kosham – It is the blessed body that is nourished by pure consciousness, by the soul.
The soul sustains all bodies through the consciousness of intellect, thoughts, energy and structure.
The 5 Koshams have 2 types of action, 2 Karmas.
Nal Vinai – good destiny

Thi Vinai – bad destiny
I 2 Karma producono 3 tipi di scorie, 3 Mala. The 2 Karmas produce 3 types of slag, 3 Malas.
Anavam – main ego (wanting to sleep, wake up, hating, loving, enter in meditation)
Maya – illusion, ignorance
Kama – greed, too much desire.
We all live subjected to ego, illusions and desires. Although we have no longer desires, we continue to live because we are subjected to Maya, and also eliminating Maya, the ego continues to persist; to go beyond we should tend towards the Purusha burning the ego. The process of the manifestation takes place through a series of successive divisions with which various creatures and different objects come into existence. Ahamkara more than a reality in itself is a process, a series of thoughts that divide, not a real entity. This is a division power that is essential to the manifestation of multiplicity; it is a stage of evolution, but is not the fundamental truth or true nature of creatures that is represented by the Pure Consciousness beyond personification. Through ego the basic potentialities of the matter (Prakriti) and the fundamental laws contained in the Cosmic Intelligence (Mahat) take a specific form. The basic qualities of nature differ in three groups of five: five senses, five organs of action and five elements. These arise from Ahamkara through Sattva, Rajas and Tamas, the Triguna.
If Buddhi is intelligence that allows to turn the gaze to deep and inner nature of things, the ego, which by its nature is outwards, creates the mind and the senses, tools that allow the individual to operate. Ayurveda places great emphasis on understanding of the ego and the inevitable distortions created by its influence; a proper understanding of the ego causes our judgment remains balanced and our actions are aimed at the universal good. Break free from the ego's domain causes the dissolution of all psychological disorders and physical diseases.
The 3 Malas are controlled by 3 Gunas.
Sattva – pure-light, soul, white, purity, serenity
Rajas – dynamic-heat, ego, red, dynamism, activity
Tamas – inert-structure, body, black, quiet, inertia
If we want to sleep, Nidra, serves Tamas; If we are to be alert, Jakrata, serves Rajas; If we want to be in Ecstasy, Turyam, serves Sattva.
The 3 Gunas have 9 types of tastes, sensations, Nava Rasa.
Viruppu – love, joy, let in, acceptance, East
Veruppu – hatred, dismiss, let out, rejection, West
Santosham, Sukam – happiness, joy, comfort
Dukham – sadness, suffering
Krodham – resentment, anger
Shantham – serenity, tranquility
Viram – dignity, strength, courage
Bhayam – fear
Hasyam – humor, irony in a positive, fun, laughs, taking life lightly
Shantham: this tranquility can take over in a state of silence. This state happens naturally for a very short time, so that we are not able to recognize it; in meditation practice we try to bring this state to longer times and to recognize it.
We find the 9 Rasas in 5 types of status, conditions, Pancha Avastha.
Jakrat – waking state; be ready, alert. Consciousness is associated with the mental and to the senses.
Svapna – dream state; with eyes open or closed. Consciousness is in the subtle body, associated with the mental.
Sushupti – state of dreamless sleep; be asleep, peaceful, calm. Consciousness is in the causal body.
Turiya – state of meditation; deep consciousness, ecstasy, how to enjoy life outside or on inside, blissful. Consciousness is in the great
causal body - Mahakarana.
Turiyatita – state of pure consciousness - Unmesha; silence, total annulment which can be all the other consciousnesses.
Avastha is the state of the soul. In all the states is used the consciousness but the kind of state depends on the environment. The first three states are associated with Avidya (ignorance); Vikriti with the first two and the third with Prakriti. Pure consciousness is not taking part of normal life, goes beyond; even if one lives the life, he lives differently. Turiya is the state of deep meditation, Samadhi; Turiyatita is the state of meditation in life.
The 5 Avasthas live in 4 aspects, subtle causes, the 4 Andakarnis.
Manas – superficial mind, virtual mind, psyche, emotions
Siddam – subconscious, deep mind; memorizes
Buddhi – individual intelligence
Ahamkar – ego
A sattvic ego empties siddam while a tamasic ego fills. Siddam andakarna is always present because there is always the karma or destiny of the soul.
These 96 aspects are supported by the soul, Atma, Purusha.
---
| | |
| --- | --- |
| 3 DOSHA (PHYSICAL STRUCTURE) | 3 GUNA (MENTAL STRUCTURE) |
| VATA (light - soft - dry) | SATTVA (light - thin - quickening - virtue) |
| PITTA (fluid - warm - active) | RAJAS (activity - passion) |
| KAPHA (cold - dense - slow) | TAMAS (ignorance - inactive - heavy - obstruction) |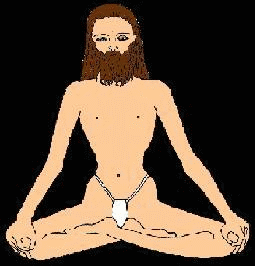 THE 3 DOSHA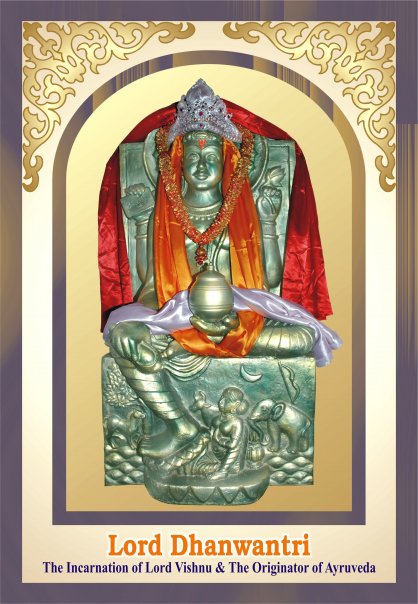 VATA ETHER + AIR

ROUGHNESS - LIGHTNESS - THINNESS - COLDNESS - MOBILITY - DRYNESS

PITTA FIRE + WATER

HEAT - ACUTENESS - SPICY TASTE - LIQUIDITY - BAD ODOR - LIGHT GREASINESS - ACID TASTE

KAPHA EARTH + WATER

HEAVINESS - COLDNESS - SOFTNESS - SLOWNESS - GREASINESS - STABILITY - SWEETNESS

Vata is motion: anything that is inherent to the movement tends to increase this Dosha while everything is static tends to stabilize it.
Pitta is fire, all that is heat tends to increase this Dosha while all that is refreshing tends to pacify it.
Kapha is static: all that is heavy tends to aggravate this Dosha while everything is light tends to pacify it.
Factors of increase of Dosha
Taking into consideration the standards of conduct, there are actions and particular conditions that cause the increase of Dosha because of the quality that they express.
| | | |
| --- | --- | --- |
| Vata | Pitta | Kapha |
| | | Salty, fatty, oily, heavy foods |
| | | |
| | | |
| | | |
| | | |
| | | |
| | | |
| | | |
| | | |
| | | |
| | | |
| | | |
| | | |
| | | |
| | | |
| | | |
| | | |

VATA

RESPIRATION, ENERGY, VIBRATIONS, IMPELLED ETC. DEPEND ON VATA

PITTA

DIGESTION, BODILY HEAT, THIRST AND HUNGER, SKIN, GREED OR POSSESSIVE INSTINCTS, SEES, INTELLECT, BRAVERY ETC. DEPEND ON PITTA

KAPHA

STABILITY, SOLIDITY, GREASINESS, STABLE JOINTS, SEXUALITY, MEMORY, AWARENESS, STRENGTH, GENEROSITY ETC. DEPEND ON KAPHA

VATA

IN EQUILIBRIUM

ENTHUSIASM, DYNAMISM, MIND IN ALERT AND VIGILANT, ENERGY AND VITALITY, REGULAR EVACUATION, DEEP SLEEP

IN UNBALANCE

PAIN, RESTLESSNESS, INSENSIBILITY, CONTRACTIONS AND TREMORS, INSTABILITY, ANXIETY, INSOMNIA, DRY SKIN, CONSTIPATION

PITTA

IN EQUILIBRIUM

ACUTE INTELLECT, BALANCED APPETITE, GOOD DIGESTION, BRIGHT SKIN, GOOD SEES

IN UNBALANCE

BURNING, FEVER, PERSPIRATION, IRRITABILITY, FEELING OF BURNING ON THE BODY, VORACIOUS APPETITE, UNBALANCED DIGESTION, YELLOWISH COLOR

KAPHA

IN EQUILIBRIUM

COURAGE, FORGIVENESS, CALM, PLEASANT ASPECT, SOFT AND ATTRACTIVE FORMS, DARK AND STRONG HAIR

IN UNBALANCE

IDLENESS, LETHARGY, OBESITY, PALLOR, FEELING OF HEAVINESS, YAWNS
blood from the nose

pain to the feet and the calves

insensibility to the legs

sciatica

atrophy of the inferior limbs

rectal prolapse

rigid joints, deformations of the backbone (hump etc.)

dwarfism

rigid jaw

fragile teeth

muteness

aphasia

dryness of the mouth

inability to the taste and the sense of smell

pain to the ears, deafness

all the pains to the head

facial paralysis

tremors and pangs

dryness and hardness of the skin (local or general)

insomnia

anxiety

depression and anguish

disturbed intelligence or limited

the hair's loss
fever, inflammations, feelings of local burning

acidity

excessive perspiration

marked bodily odors

cutaneous eruptions

jaundice

bitter taste in mouth

stomatitises

excessive thirst

insatiable appetite

eyes, urine, faeces of yellow / greenish color
satisfaction

idleness and increase of the sleep

heaviness of the body and the mind

sweet taste in mouth

increase of the oral secretions

big faeces

heaviness to the breast

tonsillitis

cervical adenitis

obesity

bad digestion

eyes, urines, faeces more white of the normal one
REMEDIES AND THERAPIES FOR VATA
massage with oil

Turkish bath, sauna, warm bath and similar

busy and active mind

alcoholic medicinal preparations

digestive

nourishing diet (well cooked, warm, greasy, liquid foods, from the sweet or acid or salty prevailing taste)

good humor
REMEDIES AND THERAPIES FOR PITTA
internal and external use of ghee (clarified butter)

light laxative

fresh diet (fresh foods, liquid foods, from the sweet or bitter or astringent prevailing taste)

cold bath

pleasant environment: fragrances of flowers, music, friends etc.

don't sleep during the day
REMEDIES AND THERAPIES FOR KAPHA
strong laxative

light diet (warm, light, dry foods, from the spicy or bitter or astringent prevailing taste)

aged alcoholic drinks

dry massage (without oils or creams)

less sleep

sex

physical activity

emetic, honey and few comforts are essential
(PRAKṚTI)
VATA
PITTA
KAPHA

Not

harmonic,

too

high or too low

,

prominent

lineaments

Dry, rough,

cold

,

with

wrinkles

Soft, warm

,

oily

,

sensitive

, irritable,

with

freckles

Soft, smooth

,

soft

,

fresh

,

moist

Dry, rough

, curly,

brittle

Soft, shiny

,

thin

, fat,

gray hair

,

baldness

Fat,

dark

,

dense

,

soft

, wavy

Irregular

, rough, brittle

Big, strong

, regular, soft

Small

,

sunken

, with no

brightness

Medium

,

bright

,

warm

,

red

Large

, liquid,

dark

,

sweet

Pale

, large,

well-designed

Indifferent

,

slow to start

Irregular

,

scanty

, sometimes

deep

Restless

, active,

theoretical

,

philosophical

Stable

,

slow

,

harmonious

, calm

Good

the recent

, low the remote

Uncertain

, unpredictable,

adaptable

Aggressive,

revengeful

,

brave

Indifferent

,

attacked,

loving

Fear /

Courage

;

Anxiety

/

Contentment

;

Nervousness

/

Calm

;

Pain

/

Pleasure

;

Relaxation

/ Tension

Hunger

/

Thirst;

Weakness

/

Strength

;

Hot / Cold

;

Distraction

/

Attention

;

Jealousy

/

Generosity

Love

/

Hate

;

Desire

/

Indifference

;

Attachment

/

Detachment

Intelligent

, light, wise,

sensible,

not concentrated

,

research

spiritual development

Intelligent,

strong

, intolerant,

easily understood

, do not

forget

,

friendship

for selfish

Quiet,

stable

,

happy

, generous,

austere

, humble,

tolerant

K

nows

many people, few close friends

S

elective

, create

deep friendships

, few

enemies

Loyal,

with

many friendships

Strong

, determined,

fanatical

Tends to

spend on

trifles

Moderate

,

lavish spending
* Rasa (tastes)
* Diets for: Constitution VATA - Constitution PITTA - Constitution KAPHA
* Physical exercise for the 3 dosha
To establish of what type of constitution we are and to establish a diet is good routine to address to an ayurvedic physician.

In this section the matter is treated in general line to better understand the principles and the techniques of Ayurveda.
The diet, being of primary importance, has a big consideration in ayurvedic medicine. In western country is given more importance to the quantity of calories of the food and the classification in fat, carbohydrates, proteins etc., with little consideration on the digestive ability of the consumer, on the season, on the mental state of the individual or on the equilibrium of the energies in body and mind. According to the ancient Indian medicine the diet is above all a tool of preservation of the state of health and prevention of illness. That's why we cannot ignore these important factors that so heavily influence our psycophysic equilibrium.
Rasa (Tastes)

SWEET - RICE, PASTA, SUGAR, GHUR(SUGAR CANE), MILK, BUTTER, CARROTS, GRAPE, FIG, LIQUORICE

ACID - YOGURT, LEMON, VINEGAR, CHEESE, TOMATO

SALTY - SALT, TAMARI (SOYA SAUCE), SALTY PEANUTS, SEA ALGAS

SPICY - PEPPER, CAPSICUM, GINGER, GARLIC, ONION

BITTER - SPINACHES, CHICORY, GREEN VEGETABLES, TURMERIC, RHUBARB

ASTRINGENT - LEGUMES, KHAKI, ALL THE SOUR FRUIT, RAW HONEY
| | | |
| --- | --- | --- |
| | ACTIVE | PACIFIC |
| SWEET | KAPHA | VATA AND PITTA |
| ACID | KAPHA AND PITTA | VATA |
| SALTY | KAPHA AND PITTA | VATA |
| SPICY | PITTA AND VATA | KAPHA |
| BITTER | VATA | KAPHA AND PITTA |
| ASTRINGENT | VATA | KAPHA AND PITTA |
IN GENERAL TO FAVOR WELL COOKED, WARM, GREASY, LIQUID FOODS, FROM SWEET OR ACID OR SALTY PREVAILING TASTE

TO FAVOR THE CONSUMPTION OF:

CEREALS: Rice, Wheat in all its preparations, Oat (cooked)

DAIRY PRODUCE: Milk, Yogurt, Butter, Cheeses of cow

VEGETABLES: Tofu (soya cheese)

MEATS: Chicken, Turkey, Rabbit, blue Fish

VEGETABLES: Asparaguses, Avocado, Beets, Tomatoes, Carrots, Fennels

FRUIT: Fig trees, Raisin, Dates, Orange, Banana, Lemons, Pineapple, Mango, Peaches, Melon, Plums, Pear, Kiwi, Cherries

DRY FRUIT AND SEEDS: Almonds, Walnut-trees, Filberts, Sesam
SPICES AND AROMAS: Anise, Garlic, Basil, Cinnamon, Nails of carnation, Fennel, Sage, Ginger, Nutmeg, Rosemary, Saffron

FAT: Olive Oil, Butter, Tahin (sesam butter), Gee (clarified butter)

SWEETENERS: Sugar of cane, Honey (few)


TO REDUCE THE CONSUMPTION OF:

CEREALS: Bowline, Millet, Rye

DAIRY PRODUCE: Milk and cheeses of goat

MEATS: Steer, Calf, Pig

LEGUMES: Beans, Chick-peas

VEGETABLES: Cabbage, Eggplant, Lettuce, Broccolis, Potatoes, Peppers, Pumpkin

FRUIT: Sour and not sweet

SPICE: Turmeric and Capsicum

SWEETENERS: White Sugar
TO FAVOR FRESH, LIQUID FOODS, FROM THE SWEET OR BITTER OR ASTRINGENT PREVAILING TASTE

TO FAVOR THE CONSUMPTION OF:

CEREALS: Rice, Wheat, Bowline

DAIRY PRODUCE: Milk, Gee, Butter, fresh Cheeses, Ricotta

MEATS: Chicken, Turkey

VEGETABLES: Asparaguses, Lettuce, Courgettes, Spinaches, Beets, Broccolis, Cucumbers, Potatoes

LEGUMES: Chick-peas, Broad beans, Peas, Red Lentils, Tofu

FRUIT: All less Orange, Grapefruit, Mango

DRY FRUIT AND SEEDS: Sunflower and Pumpkin

FAT: Gee, Olive Oil (not too much), Sunflower Oil

SPICE IS AROMAS: Turmeric, Coriander, Fennel, Mint, Saffron

SWEETENERS: Sugar of cane, Honey (in the cold season)


TO REDUCE THE CONSUMPTION OF:

CEREALS: Corn, Rye, Millet

DAIRY PRODUCE: Yogurt, sour and salty Cheeses

MEATS: All

LEGUMES: Beans, Lentils

VEGETABLES: Tomatoes, Spinaches, Onion, Eggplants, Peppers

FRUIT: Orange, Grapefruit, Mango

OILS: Sesam, Corn, Peanuts

SPICE IS AROMAS: Pepper, Capsicum, Ginger (dry), Sage, Oregano, Thyme, Garlic, Mustard, Vinegar, Tamari

SWEETENERS: Honey (in the cold season)
TO FAVOR WARM, LIGHT, DRY FOODS, FROM THE SPICY OR BITTER OR ASTRINGENT PREVAILING TASTE

TO FAVOR THE CONSUMPTION OF:

CEREALS: Bowline, Millet, Rye, Emmer, Tapioca

DAIRY PRODUCE: Skimmed milk, Milk and cheeses of goat

LEGUMES: Chick-peas, Lentils, Peas, Soy

MEATS: Chicken, Turkey

VEGETABLES: Beets, Chicory, Lettuce, Eggplant, Spinaches, Pumpkin, Courgettes

FRUIT: Cherries, Maracuja, Apple, Pomegranate, Fruits of wood, Papaya

OILS: Sesam, Olive

SPICE AND AROMAS: Laurel, Basil, Nails of carnation, Cardamom, Turmeric, Cinnamon, Marjoram, Oregano, Black Pepper, Sage, Ginger

SWEETENERS: Honey

TO REDUCE THE CONSUMPTION OF:

CEREALS: Laughed white, Bread and pasta white, Oat

DAIRY PRODUCE: Whole milk, Butter, Gee, Yogurt, Cheeses of cow

LEGUMES: Tofu

VEGETABLES: Avocado, Beets, Carrots, Potatoes, Tomatoes

FRUIT: Orange, Banana, Dates, Figs, Mango, Melon, Coconut, Peaches, Kiwi, Grape

DRY FRUIT AND SEEDS: All

FAT: Butter, Gee, Margarine

SPICE: Salt

SWEETENERS: White Sugar, Sugar of Cane
| | |
| --- | --- |
| VATA | NO HEAVY ACTIVITY, BETTER WALKS OR BICYCLE |
| PITTA | WATER SPORTS, SKI, GOLF, SPORTS IN THE GREEN OR MOUNTAIN |
| KAPHA | ATHLETICS, BOATING, BASKETBALL, HEAVY SPORTS |

In Ayurvedic medicine the use of aromatic essences to therapeutic purpose is practiced a great deal. The essences are used in the preparation of oils for massage and diffused in the environment for their quality to influence body and mind. Little is the use of the essential oils for by inside, contrarily of the western Aromatherapy.
TO CHOOSE THE ESSENTIAL OILS ACCORDING TO THEIR CHARACTERISTICS

FOR THE SKIN

1) Antiseptic for cuts, punctures of bugs
sage-eucalyptus-tea tree-lavender-thyme-carnation-lemon

2) Anti-inflammatory for eczemas, infected wounds, swellings
camomile-lavender-yarrow

3) Fungicides for foot of athlete, candid
lavender-tea tree-myrrh-patchouli-marjoram

4) Stimulating of the fabric of granulation and cicatrizant for burns, cuts, scars
lavender-camomile-pink-neroli (flowers of orange tree)-incense-geranium-sandal-wood of rose

5) Deodorant for excessive perspiration, cleaning wounds
bergamot-sage-lavender-thyme-juniper-cypress-lemon grass

6) Insectifuges and parasiticides
hybrid lavender-geranium-citronella grass-eucalyptus-carnation-camphor-cedar of the atlas
CIRCULATION-MUSCLES-ARTICULATIONS

1) To make to go down the tension for cases of hypertension, palpitations
marjoram-ylang-ylang-lavender-lemon

2) To increase the tension for cases of circulatory insufficiency
rosemary-hybrid lavender-eucalyptus-mint-thyme

3) Equalizer of the tension:
hyssopus officinalis

4) Balmy and rubefacenti for pains, rheumatisms, muscular rigidity, sciatica, lumbagos
camphor-rosemary-marjoram-juniper-eucalyptus g.-niaouli-black pepper

5) Depurative and antitoxic for arthritis, gout, congestions
juniper-lemon-fennel

5) Stimulating lymphatic for cellulitis, obesity, water retention
grapefruit-lemon-files-mandarin (bland)-white birch tree

6) Tonic venous astringents for launch us and capillary
cypress-juniper-rosemary-yarrow-lemon-files-orange tree
RESPIRATORY

1) Expectorant for catarrh, sinusitis, cough, bronchitis
Eucalyptus g.-pine-thyme-myrrh-sandal-fennel

2) Antispasmodic for colics, dry cough, pertussis
hyssopus officinalis-cypress-cedar of the atlas-bergamot-camomile-cajeput

3) Balmy for cold, hits of cold, congestions
benzoin-incense-Tolω balm-Peru balm -myrrh

4) Respiratory antiseptic for influence, sore throat, tonsillitis
thyme-sage-eucalyptus g.-basil-pine-niaouli-cajeput-tea tree
DIGESTIVE

1) Spasms, pains, dyspepsia (troubles of the digestion)
Camomile-fennel-orange-mint-lemon balm

2) Carminative (anti-gas), flatulences, aerophagy, nauseas
angelic-basil-camomile-mint

3) Increases the bilious secretion and it stimulates the gallbladder
caraway-lavender-mint

4) For the liver:
rosemary-lemon-mint

5) To stimulate the appetite:
anise-angelic-orange-ginger
SOOTHING

Soothing of the nervous system for exhaustion, anxiety, stress, insomnia, nervousness
orange-ylang ylang-sandal-lemon balm-jasmine-lavender-camomile-vetiver-patchouli-valerian
TO PERFUME AND TO DISINFECT THE ENVIRONMENT

To dilate the bellows and to favor the phlegm:
eucalyptus-mugo pine-niaouli (1 only or in association)

Anti-mosquitos:
basil-mint-citronella-eucalyptus citriodora

Anti-moths:
cedar-carnation-geranium (strengthened with lavender)

Against the odor of tobacco:
lemon-files-citronella-geranium-strawflower

For the bacteriological purification of the air:
lavender-pine-thyme-rosemary-bergamot-eucalyptus-niaouli

To help the concentration:
basil-mint-rosemary-cypress

Few drops are enough on a terracotta, on your poutpourri
Vata Massage Oil Composition:

Base Oils: Sesame seed and Almond
Herbs: Ashwagandha root, Gotu Kola leaf, Chamomile flowers, Ginger root, Licorice Root, Shatavri root, and Dong Quai root
Essential Oils: Lavender, Clary Sage, Jatamansi, Vetiver


Pitta Massage Oil Composition:

Base Oils: Olive
Herbs: Gotu Kola leaf, Licorice Root, Fennel seed, Peppermint leaf
Essential Oils: Lavender, Peppermint, Jatamansi, Vetiver


Kapha Massage Oil Composition:

Base Oils: Almond
Herbs: Gotu Kola leaf, Ginger root
Essential Oils: Orange peel, Cedarwood, Clary Sage, Patchouli, Myrrh
The information here brought have only an illustrative goal: they are not referable neither to prescriptions neither to medical suggestions
THE 96 ASPECTS OF LIFE - 3 DOSHA - QUALITY OF THE 3 DOSHA - PHYSIOLOGICAL FUNCTIONS - EFFECTS ON BODY AND MIND
TROUBLES CAUSED BY VATA - TROUBLES CAUSED BY PITTA - TROUBLES CAUSED BY KAPHA
REMEDIES AND THERAPIES FOR VATA - REMEDIES AND THERAPIES FOR PITTA - REMEDIES AND THERAPIES FOR KAPHA
CHART OF THE CONSTITUTION - DIETS - RASA - VATA CONSTITUTION - PITTA CONSTITUTION - KAPHA CONSTITUTION
PHYSICAL EXERCISE - AROMATHERAPY - MASSAGE
---