GOVINDA DAS AGHORI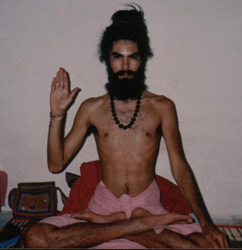 Govinda Das Aghori (Jimmy Penzo - Chioggia 27/1/63), author of this site, since the adolescence undertakes the spiritual search. In Italy he visits and deepens various schools and in 1986 it lands in India discovering the sadhus avadhut. He lives in different ashram experimenting various sadhana (spiritual path) up to when in 1989 he arrives in Omkareshwar and meets Baba Kishan Das Aghori. Fascinated by the aghora philosophy, he becomes disciple of the Baba staying at his ashram for different years.
Returned to Italy, he has worked as ayurvedic masseur and yoga teacher.
Today he lives in Perugia, is gotten married and works in a therapeutic community in the sector of the mental health.
The site proposes to spread and to let know the Aghori culture too often misunderstood and stigmatized as one dark "sect".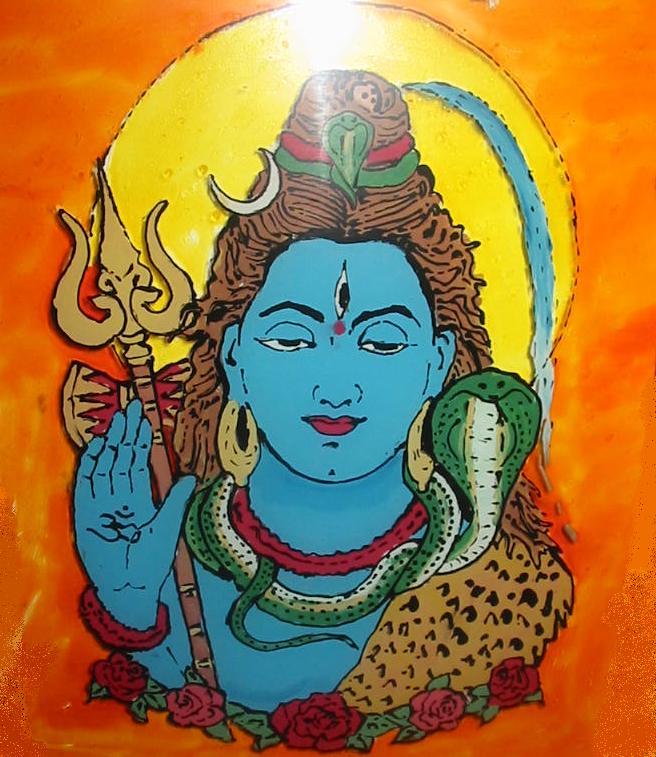 Glass painting by Govinda Das
Searching for a guru is a fundamental part of our spiritual lives, that's why I vagabonded on this planet searching for the spark that could light the sacred fire that was already in me. That's because I draw on from various sources, thirsty of knowledge. I must say that Nath and Aghori Babas have always aroused a strong attraction in me than any other reality I met on my spiritual path.
One day, in my wander, I reached Omkareshwar. I was attracted by Joth lingam, the Narmada River and the island with the form of OM at the heart of the River. I came from Hampi: in peace on the bank of the river, between meditations and fasting, with the long bhajan and fragrant cilum near the fire with friends, between the smooth, multicolored rocks and water that flowed spurting.
It was seven months that I wasn't speaking (mun), observing one of the best sadhana to know the human soul, in that silence I have learnt to listen to the others, to the Mother, to myself.
As I arrived to Omkareshwar, a friend Puri Baba said: "there is one of your brother at the heart of the island, let's go to find him!". I nodded and curiously we start to walk towards GoriSomnath Mandir, an ancient complex partly in ruins, where is the most ancient and largest lingam stone in India. The Mandir was not open to the public and all around there were archaeological excavations. There had their austerity Parvati, the Pandava and many of the great Indian wise and the majesty of the three floor Mandir underscore it. There was an indescribable charm, every pore of my skin felt a kind of electricity from the temple. It was located exactly at the heart of the island, at the meeting of the three lines forming the OM.
I looked around and saw a small ashram, Puri Baba told me that we were arrived, so we approached the ashram to take darshan, after a ritual pranam we sat down near the dhuni. Kishan Das Aghori was smiling and our eyes met for the first time.
I tried several times to describe this moment, but I never succeed, the words I feel are all limited and limiting, that meeting of eyes communicate an enormity of things and at the same time was further any communication. That silence between us was a song, those benevolent eyes let get a glimpse of ancient yantra, those hearts was joined and we felt like one thing.
My friend, after a while, went away but I stayed there in silence. I listened to the essence of Avadhut Gita exposed easily by Kishan Das Aghori and my heart flew high as a hawk, it was what my inner voice had always said, it was what I already knew from the deep and I had never known how to express.
I started to talk again and from that day I had lengthy discussions with that Aghori Baba who not ever wished that to be called guru but whom, more than anything else, was a spiritual father full of love. Many have been its precious lessons that I've let me immerse in the magical world of Tantra.
The days steal away and most of the time I was sitting near the dhuni, just sometimes some pilgrims or some Baba devotees broke that atmosphere full of meanings.
After a few months I was there to do the pujari at GoriSomnath Mandir between the verses of the peacocks and the cries of the apes.
From that place my heart never went away, how could I leave!
Govinda Das Aghori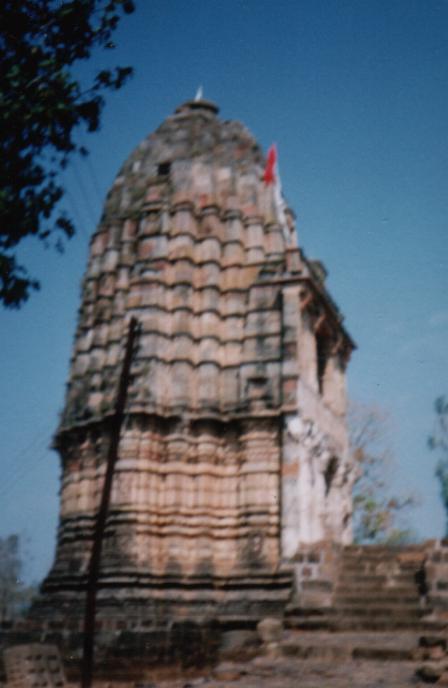 GoriSomnath Mandir
---
Jai Ma my meeting with the Mother by Govinda Das Aghori
I see the Mother in everything. I see Her in the grass, in mountains, in the water, in all the live being, in the universe, in my parents, in my wife, in my children, in my sister and in my brother. Sometimes Ma, the Mother, manifest herself to us in a particular form: for blessing us, to show us a way, to help us in a moment of great difficulty, because we stressed Her with our endless prayers, because birth after birth we ask her to come in front of us. Rare are this occasions, precious presents that let us have a personal relationship with God.
With humility I would like to tell you about my meeting with the Great Mother, to many it will seam a delirium of a fool but for me it was a cardinal point in my spiritual path.
Since a while I stayed in Omkareshwar with Kishan Das Aghori in his small ashram, studying yantra, the graphic representation of the Divine; studying mantra and its great power; practicing Aghora Sadhana under Kishan Das Aghori careful supervision. Days flow and every day I was more enriched.
I always was been in good health during my journeys in India but in those days I had an infection to a thigh that had produced a big quantity of pus. Kishan Das, after giving me various medicinal herbs that nothing made against that infection, advised me to go to the Indore hospital to make an incision and gave me his devotee address, a jain, that live close to the hospital and can gave me hospitality. So I decided to leave for Indore (three hours by bus from Omkareshwar) and treat the infection to the hospital.
Everything gone well and after the incision practiced at the hospital (I had almost half kilo of pus) they told me to stay some days at rest so I went to Baba's jain devotee. Everyone knows how sacred is hospitality in India and my jain brother gave me all his loving care to overcome what seem to me an unpleasant unforeseen event. Some days of convalescence later staying together with the wonderful jain family, always with a light fever, I decide to come back to Omkareshwar. To reach the top of the Om island, where Kishan Das Aghori's dhuni (sacred fire) was, you should climb an ancient long steps. I arrived on top but the light fever become an heavy one, as soon as I reach Baba's ashram I collapse, I fainted in front of dhuni. I had 42° C temperature and I was starting to be in raptures, people around me vanished and in my mind there was only: "Jai Ma, Jai Ma, Jai Ma!" . Luckily Baba knows what to do in case of high fever and lovely take care of me.
In the fever delirium I had an only vision: a thin girl, with an humble gray dress, big black eyes and a sweet smile, brought me some water in a skull bowl. In the delirium I drunk the water and thank her. She had a familiar face but I can't remember where I saw her. Despite her humble dressing her beauty was incommensurable and she emanate a shining aura. I drunk again from her bowl and the vision start to vanish leaving the place to Kishan Das Aghori's smiling face. The temperature went down and I was feeling better. Baba told me that in the past 48 hours I was unconscious, with very high fever raving incomprehensible phrases. Immediately I told Baba in great detail my vision, he assented saying that Ma came to save me and that I had to thanks that fever because of it I could test one of the most sublime experience: the meeting with the Mother. I don't understand, that girl was Ma, the Mother? Or was just a delirium of a feverish stupid? I went back over the discussion on my vision with Kishan Das Aghori but he had no doubts that girl was Durga Ma and besides he told me that ones the Mother come to us She never leave, She will be always with us. Surely this experience deep marked me. That face change my vision of the world, I find it everywhere, I see Her in the grass, in mountains, in the water, in all the live being, in the universe, in my parents, in my wife, in my children, in my sister and in my brother. She never leave me.
Jai Ma
Govinda Das Aghori
---
I observed for a long time Baba Kishan Das Aghori, I observed him in his small gestures, when he was stilling with that look far and infinite, when he was staring at the sacred fire of dhuni when he was smiling like a child. I observed him trying to capture in his gesture that wisdom that every pore of his skin seemed to emanate. I observed his refined and regal manners, as if he was the king of the world. What struck me about him was how could coexist in the same time the detachment typical of sadhus of his lineage with the loving gaze of a father. I observed him while he was following my movements, like a mother who observes the actions of his son, catching errors, distractions and smears of my actions but always with compassionate eyes, full of love.
I observed his watching every little thing, in silence, always in full awareness of everything that was happening around him, anything eluded him , he seemed to count steps of ants, and at the same time he followed the movement of the clouds.
I listened for a long time to Baba Kishan Das Aghori, I listened to him in the recitation of mantras, in the explanation of the structure of the Yantra and their proper use, in the epic stories of the gods and how they were all One, Sabka malik ek. I listened with great interest to anecdotes about his guru, Manohar Das Ji and the plots that Aghoris have with the various religions in India, and how in reality an Aghori cannot be identified with any of the religions, but at the same time embracing all. I listened to him in his thesis, in his explanations of reality. I listened to him reading my body and my mind, always infallible to center and to untie the crucial knot.
I listened to his songs full of devotion, his out of tune that sounded like a jazz solo.
But above all, I listened to his silences filled with a communication that touched levels unattainable by gestures or words.
And just thinking that who was for me a loving father to many others aroused a mixture of fear, respect and veneration. Many people plucked only marginal aspects of that Aghori world, seeing only the surface or small parts of it and never going deep to discover the simple truth of that reality. Many saw him as a kind of magician convinced that all their wishes would come true, that would solve every little problem, and relieve all their suffering, immersed in selfishness of their demands. He smiled and gave everyone the ashes of dhuni as a remedy for all ills. In fact many of those people did not understand the profound meaning of that gesture, they were not aware of the illusion of their little problems. That pure white ash has many meanings, is vibhuti. The Sacred Fire burns everything, and what remain are only ashes. It symbolizes the essence of all things in this universe. It reminds us of how Shiva burned the God of Desire, Kama and reduced him to ashes with a single glance of his third eye because he tried to dissuade him from meditation. It is a warning to deter us from our worldly desires that wrap the spirit in illusion.
Many saw him as a Saint maybe because unable to grasp the holiness that everyone has, perhaps because unable to surrender to his Holiness leaving it naturally bloom by itself. Some even saw it as an evil demon dwelling only more colorful aspects of reality, and behind them a very frightened by human skulls hanging near the dhuni without ever wondering why that symbolism.
Many saw him as a saint maybe because of their inability of grasping the holiness that each of us has, perhaps because of their inability to surrender to his holiness leaving it naturally bloom in itself.
Some even saw him as an evil demon focusing only on the most colorful of the Aghori reality, disgusted and frightened by human skulls hanging near the dhuni without questioning the reason for that symbolism.
Baba laughed, he laughed about everything and everyone and said to me what you gonna do, this is samsara.
Govinda Das Aghori
---
August 2014
Big changes in Omkareshwar: because of the Ujjain Kumbha Mela in 2016. Madya Pradesh government decided to make it "tourist friendly" destroying ashrams :(
It's not clear what will be the final result, but as of now they erased with bulldozer most of the ashrams, Baba's and local people's houses. In our ashram only the main room survived as of now. However, any day they can come back and knock it down as well.
The Aghori Ashram had been there for a long time, as also documented by the video I posted on You Tube, and all the pilgrims who passed stopped for a spiritual comfort and to pay homage to Baba. It's really sad that a place of worship should be violated in this way without any restraint.
Govinda Das
---
March 2015
In August of 2014 in the island of Omkareshwar have been torn down by the government many houses illegally built and together with them also several Ashram including three rooms of the Aghori Peeth, the Ashram of Krishna Das Aghori. The reason? Widen the Parikrama, an ancient path that goes around of the Om traced from the hills of the island. The path may thus contain more people, the jeep will pass, and things should encourage tourism during the Kumbh Mela to be held in Ujjain in 2016.
The Aghori Ashram is there for more than forty years, and thankfully it was recognized by the government. Unfortunately the three small rooms that were demolished by bulldozers, are those who occasionally hosted pilgrims.
Here are some photos of the destroyed rooms:
Passing along the Parikrama the feeling is strange, it looks like a scene of destruction without any real sense, and the siren that warns that the dam, just opposite the island, is about to release water makes it even more spooky and surreal. Before you heard the mantra of the various Ashram here and there united with the songs of wild peacocks, which seems almost all were preyed by that strange animal that is man. I imagine when the jeeps will be able to pass what horrible concert we will be able to hear. From my point of view it is as if they wanted to pass cars in Piazza San Marco in Venice. The island of Omkareshwar has a millenary history and is one of the holiest places in India. Come back in those places, so dear to me, and observe the little enhancement of a site so unique has not left me a good feeling.
Govinda Das
---
Śrī Kishan Das Aghori 10th Punyatithi - 7 March 2015
Pūjā and Havan - 5 March 2015
Navaratri 2018
---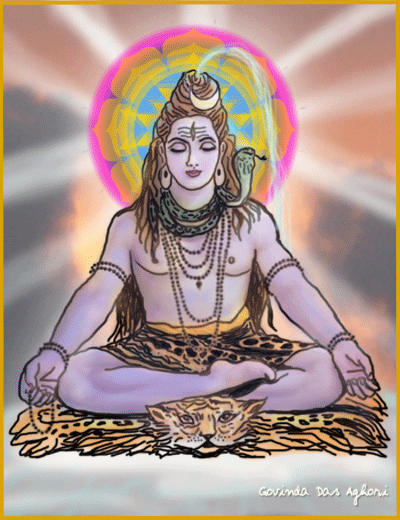 Govinda Das Aghori mp3
Music from a non-musician.
| | | |
| --- | --- | --- |
| Aghori | Dance with the Universe | Tantric Rain |
| | | |
| Sacred Sands | Quotes of Consciousness | |
| | | |

A tale of an Aghori
Once upon a Time, There was a lady who had no son and was very sad about this. She had run every Puja possible, visited every holy place, but had no children yet. One day went in that place an Aghori Baba, a sadhu who has no attachment to this world, who laughs at the world. He had heard the story of this lady and had thought that something had to be done. He walked two or three times outside his home begging for food, so the Lady, who was a very good person, invited him inside to give him a good meal. The Aghori Baba asked why she was so sad and she told him her story. She said that any astrologer who had consulted had predicted that, in this birth, she could not have a child, that's her destiny. Fate cannot be changed.
The Aghori Baba said: "don't worry you'll get enough kids when the next time I'll be back in this village!"
She was happy, but couldn't believe it. Then she said to the Aghori: "How can that be? It's not in my destiny! ". And Aghori Baba replied: "I piss on destiny!" (When you have no attachment how can destiny affect you?). He smiled and walked away. He returned to the village after 4 years, and saw that there were 4 kids for that Lady! His words had become true (when you are so sure about what you say, your words come true, the prophecy come true).
There was a sadhu in that village who thought he was a great devotee of Shri Ram, and he was very proud about it. He believed to be the biggest devotee and looked at everyone else as silly. He had heard the story of this Aghori and the lady, so he went to meditate and asked Shri Ram: "When I asked to solve the problem of that Lady, You said that is not her destiny, but now she has 4 children. Then thou hast lied? "
Shri Ram said: "No, it wasn't her destiny!"
The sadhu: "then how can that Aghori sadhu change it?"
Shri Ram said, "Because he is an Aghori!".
The sadhu said: "But I am your biggest devotee, how can you do this to me?"
Shri Ramji smiled and thought to give the sadhus a lesson. Suddenly, he put his hands to his heart and started crying ... "Ah ... I need a heart, quick! Bring me a heart ... ah ... "
The sadhu was scared! But Shri Ram was in danger, had to have a heart as soon as possible! Began to seek a heart to everyone he met, he prayed and cried, underlining the urgency. But nobody helped him, and finally tired, he sat close to the Aghori Baba. He didn't say anything, but the Aghori asked "So you need a heart for Shri Ram, right? If you are the greatest devotee, why do you ask someone else a heart for Shri Ram? Why don't you give yours?" Saying this, the Aghori ripped open his chest, pulled out his heart and gave it to the sadhu and walked away. The sadhu understood what it meant to be a true devotee.
Folk tale
---