SHRI VIDYA - 108 NAMES OF DURGA - KALI - MAHAVIDYA - GUHYAKALI - MATRIKAS - 64 YOGINIS
DEVI MAHATMYA - HYMN TO KALI - DEVI GITA - YONI TANTRA - KUNDALINI The Mother of the Universe - SRIMAD DEVI BHAGAVATAM.PDF
NAVARATRI - DURGA PUJA VIDHI - DURGA CHALISA - MAHAKALI CHALISA - VINDHYESHVARI CHALISA - NARMADA ASHTAKAM
ADYA KALIKA SHATANAMA - BAGALAMUKHI PANJAR STOTRAM - UGRATARA HRIDAYASTOTRAM - NILA SARASVATI STOTRAM - OTHER HYMNS
KALI KAVACHAM - TARA KAVACHAM - BHUVANESVARI KAVACHAM - BHAIRAVI KAVACHAM - CHINNAMASTA KAVACHAM - BAGALAMUKHI KAVACH - KAMAKHYA KAVACHAM
MUSIC: JAY AMBE by gioio production
Shakti means strength, power, female energy; it is the female demonstration of the divine one. The veneration of the various forms of Shakti is largely diffused in India.

Toward halves the first millennium it affirms in the Asian subcontinent a new spiritual and religious tide: the shaktism. A myriad of forms of the great mother went to place side by side to the preexisting masculine hinduist divinities forming some divine couples. This tide notably also influenced the Buddhism so that to the various figures of the Buddhas were placed side by side by a female figure. Next to the masculine divinity,that represents the unchangeable one, there is the female divinity ,representing the strength, the power and therefore the divine energy. This is a real religious revolution that also corresponds to a new spiritual view. In the VII century AD the shaktism produced its sacred texts: the Tantras.

The deepest roots of shaktism and tantrism can be individualized in the cult of the great mother of the prevedic people. These cults have analogies in the whole rest of the world and bring us to the origins of the spirituality. Kali or Durga, black Mothers in the most ancient cultures, black goddesses in ancient Greece or black Christians Madonnas comes from one prototype. An archaic divinity that has withstood the sexist traditions as that Vedic, and that resurfaces with new vitality with the Durga and Kali cults in all their forms.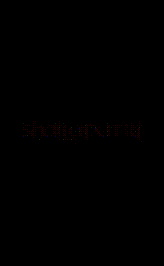 Navdurga (the nine Durgas)

Durga, the great mother, was born from the union of all the energies of the masculine divinities worn out by the endless struggle with the Asuras (demons). In her many arms handed the emblems of all the divinities. Its strength is dreadful. The goddess defeats Mahishasura, such a powerful demon to compromised the equilibrium of the whole universe. She kills him several times but every time the demon rise even more strong assuming more and more terrible forms. Finally, thanks to the energy she got drinking a cup of sacred wine, Durga cuts off the head of Mahishasura killing the demon definately. Finally the Devas (Gods) can relax and they solemnly honored Durga that since then is also called Mahishasuramardini (She that killed Mahisha the great demon).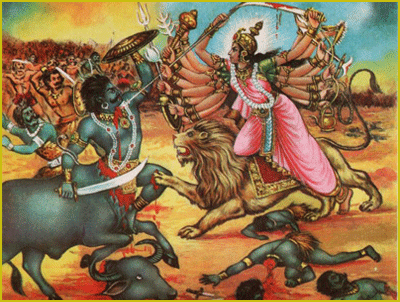 Durga that defeats Mahishasura and his horde of demons
108 Durga names
SATI

SADHVI

BHAVAPRITA

BHAVANI

BHAVAMOCHANI

ARYA

DURGA

JAYA

ADHIA

TRINETRI

SHULDHARINI

PINAKDHARINI

CHITRA

CHADAGHANTA

MAHATAPAH

MANAH

BUDDHIH

AHNKARA

CHITTARUPA

CHITA

CHITIH

SARVAMANTRAMAYI

SATTA

SATYANANDAKARUPINI

ANANTA

BHAVINI

BHAVYA

BHAUYA

ABHAVYA

SADAGATIH

SHAMBAVI

DEVAMATA

CINTA

RATNAPRYA

SARVAVIDA

DAKSHAKANYA

DAKSHAGYAVINASHINI

ADARNA

ANEKVARNA

PATLI

PATLAVATI

PATTAMBARPARIDHANA

KALAMNJRRANJINI

AMEYAVIKRAMA

KRURA

SUNDARI

SURSUNDARI

VANDURGA

MATADHGI

MATADHGAMUNIJITA

BRAHNI

MAHESWARI

ENDRI

KOOMARI

VAISHNAVI

CHAMUNDA

VARAHI

LAKSHMIH

PURUSHAKUTI

VIMALA

UTKARSHINI

GYANI

KRIYA

NITYA

BUDDHIDA

BAHULI

BAHULPREMA

SARVAVAHNAVAHNI

MAHISHASURAMARDINI

MADHUKAITBHAHNTRI

CHANDAMUNDAVINASHINI

SARVASURVINASHA

SARVADANAUGHATINI

SARVASURVINASHINI

SARVASHASTRAMAYA

SATYA

SARVASTRADHARINI

ANEKSHASTRAHSTA

ANEKSHASTRADHARINI

KUMARI

EKAKANYA

KAISHORI

YUVATI

YATIH

APRAUTA

PRAUTA

VUDDHAMATA

BALPRADA

MAHODARI

MUTKIKESHI

GORARUPA

MAHABALA

AGNINAGVALA

RAUDAMUKTI

KALARATRI

TAPSVINI

NARAYANI

BHADRAKALI

VISHNUMAYA

JALODARI

SHIVADUTI

KARALI

ANANTA

PARAMESWARI

KATYAYANI

SAVITRI

PRATISHA

BRAHMAVADINI
---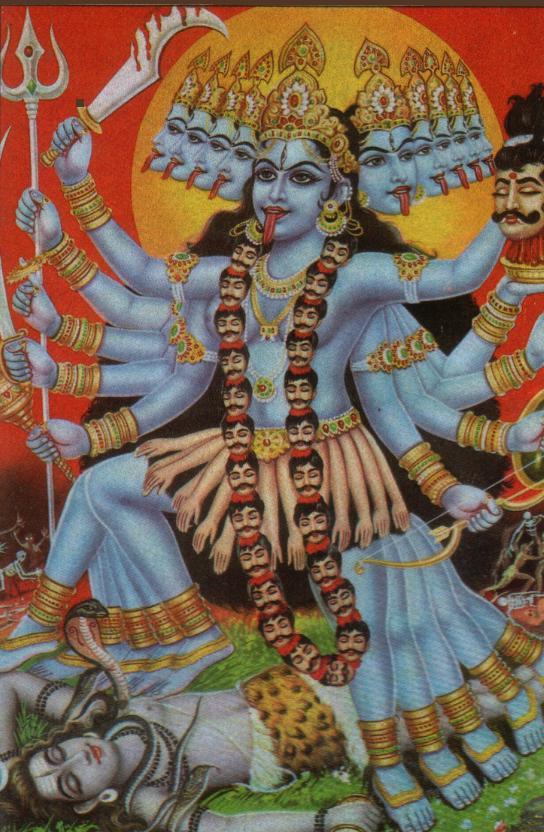 The black goddess appears for the first time in the Devi Mahatmya or Durga Saptasati from the Marcandeya Purana. The devotion to Kali,, the goddess that more expresses the archetype of the great mother, has its fulcrum in the tantrism. Her form so terrible symbolizes the power, the strength, the good that defeats the evil, and is the demonstration of the divine power. Black because it is the color where everything disappears, also called Digambari (dressed of sky), Naked and with great breasts as the primordial goddesses.

Shiva in the Mahanirvana Tantra describes Kali thus:
As white, yellow, and other colours all disappear in black, in the same way all beings enter Kali.
Therefore it is that by those who have attained the knowledge of the means of final liberation, the attributeless, formless, and beneficent Kalashakti is endowed with the colour of blackness.
As the eternal and inexhaustible One image of Kala and soul of beneficence is nectar itself, therefore the sign of the Moon is placed on her forehead. As She surveys the entire universe, which is the product of time, with Her three eyes – the Moon, the Sun, and Fire – therefore she is endowed with three eyes.
As She devours all existence, as She chews all things existing with her fierce teeth, therefore a mass of blood is imagined to be the apparel of the Queen of the Devas (at the final dissolution).
As time after time She protects all beings from danger, and as She directs them in the paths of duty, her hands are lifted up to dispel fear and grant blessings.
As She encompasses the universe, which is the product of Rajoguna, she is spoken of, as the Devi who is seated on the red lotus, gazing at Kala drunk with intoxicating wine and playing with the universe. The Devi also, whose substance is intelligence, witnesseth all things .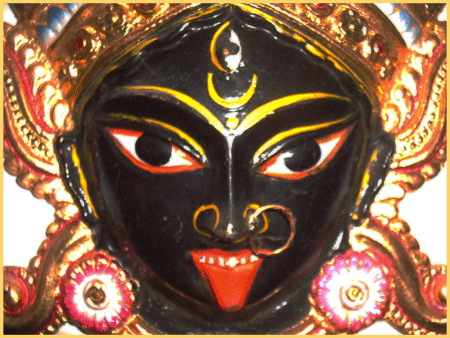 Tantric Amulets of Kali and Beiro,
female and masculine terrific forms of the divine one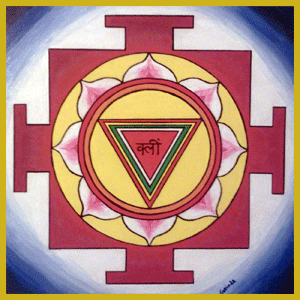 The Divine Mother is worshipped as ten cosmic personalities, the Dasa-Mahavidya. The Mahavidyas are considered Tantric in nature and are usually identified as:
Kali: The ultimate form of Brahman, "Devourer of Time".

Tara: The Goddess as Guide and Protector, or Who Saves. Who offers the ultimate knowledge which gives salvation (also known as Neel Saraswati).

Shodashi or Lalita Tripurasundari: The Goddess Who is "Beautiful in the Three Worlds"; the "Tantric Parvati" or the "Moksha Mukta".

Bhuvaneshvari: The Goddess as World Mother, or whose body is the cosmos.

Bhairavi: The Fierce Goddess.

Chinnamasta: The self-decapitated Goddess.

Dhumavati: The Widow Goddess, or the Goddess of death.

Bagalamukhi: The Goddess who paralyzes enemies.

Matangi: the Prime Minister of Lalita; the "Tantric Saraswati".

Kamala: The Lotus Goddess; the "Tantric Lakshmi".
10 Mahavidyas Mool Mantras
Kali

ॐ क्रीं क्रीं क्रीं हूँ हूँ ह्रीं ह्रीं दक्षिणे कालिका

क्रीं क्रीं क्रीं हूँ हूँ ह्रीं ह्रीं स्वाहा

Om̐ krīṃ krīṃ krīṃ hūm̐ hūm̐ hrīṃ hrīṃ dakṣiṇe kālikā

krīṃ krīṃ krīṃ hūm̐ hūm̐ hrīṃ hrīṃ svāhā

Tara

ॐ ह्रीं स्त्रीं हुं फट्

Om̐ hrīṃ strīṃ huṃ phaṭ

Shodashi

ॐ ऐं ह्रीं श्रीं त्रिपुर सुंदरीयै नमः

---

क ए ई ल ह्रीं ह स क ह ल ह्रीं स क ह ल ह्रीं

Om̐ aiṃ hrīṃ śrīṃ tripura suṃdarīyai namaḥ

---

Ka E Ī La Hrīṃ Ha Sa Ka Ha La Hrīṃ Sa Ka Ha La Hrīṃ

Bhuvaneshvari

ॐ ऐं ह्रीं श्रीं नमः

Om̐ aiṃ hrīṃ śrīṃ namaḥ

Bhairavi

ॐ ह्रीं भैरवी कलौं ह्रीं स्वाहा

Om̐ hrīṃ bhairavī kalauṃ hrīṃ svāhā

Chinnamasta

श्रीं ह्रीं क्लीं ऐं वज्र वैरोचनीयै हूं हूं फट् स्वाहा

śrīṃ hrīṃ klīṃ aiṃ vajra vairocanīyai hūṃ hūṃ phaṭ svāhā

Dhumavati

ॐ धूं धूं धूमावती देव्यै स्वाहा

Om̐ dhūṃ dhūṃ dhūmāvatī devyai svāhā

Bagalamukhi

ॐ ह्लीं बगलामुखी देव्यै ह्लीं ॐ नमः

Om̐ hlīṃ bagalāmukhī devyai hlīṃ Om̐ namaḥ

Matangi

ॐ ह्रीं ऐं भगवती मतंगेश्वरी श्रीं स्वाहा

Om̐ hrīṃ aiṃ bhagavatī mataṃgeśvarī śrīṃ svāhā

Kamala

ॐ ह्रीं अष्ट महालक्ष्म्यै नमः

---

सदाचारप्रिये देवी शुक्लपुşप वरप्रिये

गोमायादि सुचि प्रीते महालक्şमी नमोस्तुते

Om̐ hrīṃ aṣṭa mahālakṣmyai namaḥ

---

sadācārapriye devī śuklapuşpa varapriye

gomāyādi suci prīte mahālakşmī namostute
Direction - Worship

Dress

for Puja

Mala

Time

Day

Vidya

Kali

Maharatri

face South

Black

Kali-Hakik

(Black Agate)

Rudraksha

night time

Sunday

Pushya Nakshatra

Adi

Vidya

Tara

Krodharatri

face Her East-West

Rose

Crystal

day time

Wednesday

Pushya Nakshatra

Siddha

Vidya

Shodashi

Divyaratri

face North

White

Silver

Gold

White Agate

Pearls

any time

Friday

Shri

Vidya

Bhuvaneshvari

Siddharatri

any Dik

Yellow

Gold

Yellow Topas

any time

Monday

Friday

Siddha

Vidya

Bhairavi

Kalaratri

Yantra on red cloth

toghether with Bhairav

Red

Red

Vijayamala

Brahman-

muhurta

Sunday

Siddha

Vidya

Chinnamasta

Viraratri

no idol

Yantra on yellow cloth and Akshat Meru (rice)

Yellow

Red

Red

day time

Tuesday

Krishnapaksha

Panchama

Vidya

Dhumavati

Darunaratri

no idol

Copper Yantra

in water

Digambara

(naked)

Black Agate

midnigth

Krishnapaksha

Gurumala

Vidya

Bagalamukhi

Viraratri

along with

Shiva Lingam

Yellow

Turmeric

midnigth

Tuesday

Siddha

Vidya

Matangi

Moharatri

-

Saffron

Siddhamala

(1 to 14 mukhi)

nigth after

10 pm

Thursday

Vidya

Kamala

Maharatri

only on

Shri Yantra

-

Lotus seed

after sunrise

Wednesday

Vidya
Consort

Planet

Chakra

Ten Avatars

Offerings

Kali

Time

Mahakaal

Saturn

Anahata

Krishna

Grains

Tara

Sound

Akshobhya

Jupiter

Swadhishthana

Manipura

Matsya

Egg

Shodashi

Light

Panchavaktra Shiva

Mercury

Sahasrara

Jamadagni

Parashurama

Rice and

Ghee

Bhuvaneshvari

Space

Tryambaka Shiva

Moon

All

Anahata

Vamana

Rice and

Ghee

Bhairavi

Power

Kaal Bhairav

Lagna

Muladhara

Balabhadra

Rice and

Ghee

Chinnamasta

Mind

Kabandha

Rahu

Ajna

Narasimha

Sweet rice

Dhumavati

Void

-

Ketu

-

Varaha

Sweet

Bagalamukhi

Immobility

Ekavaktra Shiva

or Maharudra

Mars

Ajna

Anahata

Kurma

Yogurt

Matangi

Knowledge

Matanga

Sun

Vishuddha

Rama

Fruit

Kamala

Beauty

Sadashiva Vishnu

Venus

Anahata

Buddha

Fruit
Dasa Mahavidya - The 10 aspects of Adi Parashakti
Dasha Mahavidya Stotram - Dasha Mahavidya Kavacham - Yantras of Dasa Mahavidya - Guhyakālī
KALI KAVACHAM - TARA KAVACHAM - BHUVANESVARI KAVACHAM - BHAIRAVI KAVACHAM - CHINNAMASTA KAVACHAM - BAGALAMUKHI KAVACH - BAGALAMUKHI PANJAR STOTRAM - KAMAKHYA KAVACHAM

64 Yoginis
The 64 yoginis are forms of Durga, the Divine Mother. They also worshiped as the body parts of Devi. Their number, the square of eight, is referred to the attendants the 8 Matrika, but also to the 64 vital airs currents in the human body.
The Yoginis are identified with the Matrikas, each Matrika has 8 assistants Yoginis. Their mythological history defines them as emanations of the Devi and helped to defeat the demons Shumbha and Nishumbha. They are depicted naked and adorned with jewels.
The cult of the Yoginis is particularly strong in Orissa with temples in Hirapur and Ranipur-Jharial. The other temples are in Madhya Pradesh in Khajuraho and Bhedaghat.
| | | | |
| --- | --- | --- | --- |
| 1. divyayoginī - दिव्ययोगिनी | 17. māṃsabhojanī - मांसभोजनी | 33. krodhā - क्रोधा | 49. karālinī - करालिनी |
| 2. mahāyoginī - महायोगिनी | 18. phetkārī - फेत्कारी | 34. durmukhī - दुर्मुखी | 50. kauśikī - कौशिकी |
| 3. siddhayoginī - सिद्धयोगिनी | 19. vīrabhadrākṣī - वीरभद्राक्षी | 35. pretavāhinī - प्रेतवाहिनी | 51. bhakṣiṇī - भक्षिणी |
| 4. gaṇeśvarī - गणेश्वरी | 20. dhūmrākṣī - धूम्राक्षी | 36. kaṇṭakī - कण्टकी | 52. yakṣī - यक्षी |
| 5. pretākṣī - प्रेताक्षी | 21. kalahapriyā - कलहप्रिया | 37. dīrghalaṃbauṣṭhī - दीर्घलंबौष्ठी | 53. kaumārī - कौमारी |
| 6. ḍākinī - डाकिनी | 22. raktā - रक्ता | 38. mālinī - मालिनी | 54. yantravahinī - यन्त्रवहिनी |
| 7. kālī - काली | 23. ghoraraktākṣī - घोररक्ताक्षी | 39. mantrayoginī - मन्त्रयोगिनी | 55. viśālā - विशाला |
| 8. kālarātri - कालरात्रि | 24. piśacī - पिशची | 40. kālāgnī - कालाग्नी | 56. kāmukī - कामुकी |
| 9. niśācarī - निशाचरी | 25. bhayaṃkarī - भयंकरी | 41. mohinī - मोहिनी | 57. vyāghrī - व्याघ्री |
| 10. jhaṃkārī - झंकारी | 26. caurikā - चौरिका | 42. cakrī - चक्री | 58. yākṣini - याक्षिनि |
| 11. ūrdvavetālī - ऊर्द्ववेताली | 27. mārikā - मारिका | 43. kapālī - कपाली | 59. pretabhavanī - प्रेतभवनी |
| 12. kharparī - खर्परी | 28. caṇḍī - चण्डी | 44. bhuvaneśvarī - भुवनेश्वरी | 60. dhūrjaṭā - धूर्जटा |
| 13. bhūtayāminī - भूतयामिनी | 29. vārāhī - वाराही | 45. kuṇḍalākṣī - कुण्डलाक्षी | 61. vikatā - विकता |
| 14. ūrdvakeśī - ऊर्द्वकेशी | 30. muṇḍadhariṇī - मुण्डधरिणी | 46. juhī - जुही | 62. ghorā - घोरा |
| 15. virupākṣī - विरुपाक्षी | 31. bhairavī - भैरवी | 47. lakṣmī - लक्ष्मी | 63. kapālā - कपाला |
| 16. śuṣkaṃgī - शुष्कंगी | 32. cakriṇī - चक्रिणी | 48. yamadūtī - यमदूती | 64. laṅgalī - लङ्गली |
These are the 64 yoginis which are located in the temple of Hirapur (Orissa):
| | | | |
| --- | --- | --- | --- |
| 1. Bahurupa | 17. Chinnamastika | 33. Karkari | 49. Jvala Mukhi |
| 2. Tara | 18. Vrishabahana | 34. Sarpashya | 50. Agneyei |
| 3. Narmada | 19. Jvala Kamini | 35. Yakshini | 51. Aditi |
| 4. Yamuna | 20. Ghatavara | 36. Vinayaki | 52. Chandrakanti |
| 5. Shanti | 21. Karakali | 37. Vindya Balini | 53. Vayubega |
| 6. Varuni | 22. Sarasvati | 38. Veera Kumari | 54. Chamunda |
| 7. Kshemankari | 23. Birupa | 39. Maheshvari | 55. Murati |
| 8. Aindri | 24. Kauveri | 40. Ambika | 56. Ganga |
| 9. Varahi | 25. Bhaluka | 41. Kamiyani | 57. Dhumavati |
| 10. Ranveera | 26. Narasimhi | 42. Ghatabari | 58. Gandhari |
| 11. Vanara-Mukhi | 27. Biraja | 43. Stutee | 59. Sarva Mangala |
| 12. Vaishnavi | 28. Vikatanna | 44. Kali | 60. Ajita |
| 13. Kalaratri | 29. Mahalakshmi | 45. Uma | 61. Surya Putri |
| 14. Vaidyarupa | 30. Kaumari | 46. Narayani | 62. Vayu Veena |
| 15. Charchika | 31. Maha Maya | 47. Samudra | 63. Aghora |
| 16. Betali | 32. Rati | 48. Brahmini | 64. Bhadrakali |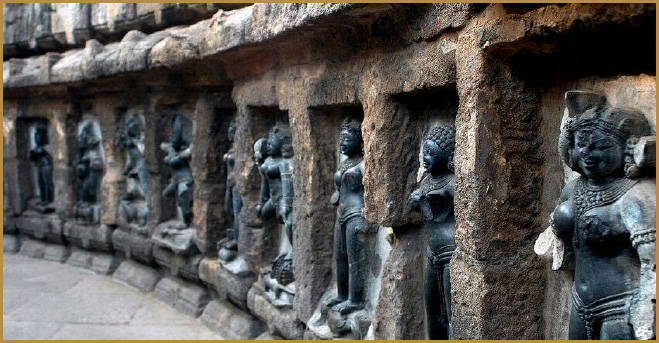 64 Yogini temple at Hirapur
---
NAMO NAMO DURGE SUKH KARANI - NAMO NAMO AMBE DUKH HARANI
I bow to You Oh Goddess Durga, the bestower of happiness! I bow to You Oh Goddess Amba, who ends all miseries.

NIRAKAR HAI JYOTI TUMHARI - TIHOUN LOK PHAILI OUJIYARI
The radiance of your light is limitless and all pervading and all the three realms (Earth, Heaven and the Nether World) are enlightened by Thee.

SHASHI LALAT MUKH MAHA VISHALA - NETRA LAL BHRIKOUTEE VIKARALA
Your face is like the moon and mouth very huge. Your eyes shine with a red glow and You have a Frightening frown.

ROOP MATOU KO ADHIK SOUHAVE - DARSHA KARATA JANA ATI SOUKH PAVE
Oh Mother, your look is enchanting, the very sight of which ensures welfare of the devout.

TOUM SANSAR SHAKTI LAYA KEENA - PALANA HEYTU ANNA DHAN DEENA
All the powers of the World repose in Thee and it is You who provides food and wealth for the world's survival.

ANNAPOORNA HOUI JAG PALA - TUMHI ADI SUNDARI BALA
Like the feeding Mother Annapoorna, You nurture the whole universe and You are the one who appears like the timeless Bala Sundari (young girl of extreme beauty).

PRALAYAKALA SAB NASHANA HARI - TOUM GOWRI SHIV SHANKAR PYARI
At the time of dissolution, it is You, Oh Mother, who destroys everything. You are the beloved consort of Lord Shiva, Gori (Parvati).

SHIV YOGI TUMHRE GUN GAVEIN - BRAHMA VISHNU TUMHEIN NIT DHYAVEIN
Lord Shiva and all yogis always chant your praise. Brahma, Vishnu and all other Gods ever meditate on You.

ROOP SARASWATI KO TOUM DHARA - DEY SUBUDDHI RISHI MUNINA UBARA
You appear in the form of Goddess Saraswati too, to grant wisdom to the sages and thus ensure their welfare.

DHARYO ROOP NARSIMHA KO AMBA - PRAGAT BHAYI PHAR KAR KHAMBA
Oh Mother Amba! It was You who appeared in the form of Narsimha, sundering the pillar.

RAKSHA KARI PRAHLAD BACHAYO - HIRANYAYKSH KO SWARGA PATHAYO
Thus You saved Prahlad and Hiranyakashyap also went to Heaven as he was killed by your hands.

LAKSHMI ROOP DHARO JAG MAHIN - SHREE NARAYAN ANGA SAMAHIN
In the form of Goddess Lakshmi, Oh Mother, you appear in this world and repose by the side of Shree Narayan.

KSHEER SINDHU MEIN KARAT VILASA - DAYA SINDHU DEEJEY MAN ASA
Dwelling in the ocean of milk, Oh Goddess, with Lord Vishnu, please fulfill my desires.

HINGALAJA MEIN TOUMHI BHAVANI - MAHIMA AMIT NA JAT BAKHANI
Oh Bhavani, the famous Goddess of Hingalaja is no one else but You Yourself. Illimitable is your Glory, defying description.

MATANGI DHOOMAWATI MATA - BHUVANESHWARI BAGALA SUKHDATA
You are yourself Matangi and Dhoomavati Mata. It is You who appear as Bhuvaneshwari and Bagalamukhi Devi to bestow happiness to all.

SHREE BHAIRAV TARA JAG TARANI - CHHINNA BHALA BHAVA DUKH NIVARINI
It is You who redeem the world, appearing in the form of Shree Bhairavi, Taradevi and Chhinnamasta Devi, and end its sorrows.

KEHARI VAHAN SOHA BHAVANI - LANGOUR VEER CHALATA AGAVANI
Reposing gracefully upon your vehicle, Oh Goddess Bhavani, You are welcome by the brave Langour (Lord Hanuman).

KAR MEIN KHAPPAR KHADGA VIRAJEY - JAKO DEKH KAL DAR BHAJEY
When You appear in the form of Goddess Kali, with sword in one hand and a Khappar (a bowl made of half the portion of coco-de-la-mer, the coconut of the sea) in the other, even Time flees in panic.

SOHE ASTRA AUR TRISHULA - JASE OUTHATA SHATRU HIYA SHOOLA
Beholding You, well armed, with a Trident in your hand, the enemy's heart aches with the sting of fear.

NAGARKOT MEIN TOUMHI VIRAJAT - TIHOUN LOK MEIN DANKA BAJAT
You also repose in the form of Devi at Nagarkot in Kangara. Thus all the three realms shudder in the might of your glory.

SHUMBH NISHUMBH DANUJ TOUM MARE - RAKTA BEEJ SHANKHANA SANGHARE
You slayed the demons like Shumbh & Nishumb and massacred the thousand forms of the dreaded Demon Raktabeej.

MAHISHASUR NRIP ATI ABHIMANI - JEHI AGH BHAR MAHI AKOULANI
When the earth was severely distressed bearing the load of the sins of the arrogant Mahishasur.

ROOP KARAL KALIKA DHARA - SEN SAHITA TOUM TIN SAMHARA
You assumed the dreadful form of Goddess Kali and massacred him along with his army.

PARI GARH SANTANA PAR JAB JAB - BHAYI SAHAY MATOU TOUM TAB TAB
Thus, whenever the noble saints were distressed, it is You Oh Mother, who came to their rescue.

AMARPURI ARU BASAV LOKA - TAB MAHIMA SAB RAHEY ASHOKA
All the realms including the Amarpuri (divine realm) remain sorrowless and happy by Your Grace. Oh Goddess!

JWALA MEIN HAI JYOTI TOUMHARI - TOUMHEIN SADA POOJEY NAR NARI
It is the symbol of Your glory that is burning brightly at Shree JwalaJi. All men and women ever worship You, Oh Mother!

PREM BHAKTI SE JO YASH GAVE - DUKH DARIDRA NIKAT NAHIN AVE
He who sings Your glory with devotion, love, and sincerity remains beyond the reach of grief and poverty.

DHYAVE TOUMHEIN JO NAR MAN LAYI - JANMA MARAN TAKO CHHOUTI JAYI
He who meditates upon Your form with concentration goes beyond the cycle of births and deaths.

JOGI SUR MUNI KAHAT POUKARI - JOG NA HO BINA SHAKTI TOUMHARI
All the yogis, gods and sages openly declare that without your favor one can't establish communion with God.

SHANKARA ACHARAJ TAP ATI KEENHO - KAM KRODH JEET SAB LEENHO
Shankaracharya had performed once a special penance called Acharaj and by virtue of which he had subdued his anger and desire.

NISHIDIN DHYAN DHARO SHANKAR KO - KAHOU KAL NAHIN SOUMIRO TOUMKO
He ever worshipped Lord Shankar and never for a moment concentrated his mind on You.

SHAKTI ROOP KO MARAM NA PAYO - SHAKTI GAYI TAB MAN PACHITAYO
Since He did not realize your immense glory, all His powers waned and then He repented hitherto.

SHARNAGAT HOUYI KIRTI BAKHANI - JAY JAY JAY JAGADAMBA BHAVANI
Then He sought refuge in You, chanted Your glory: "victory, victory, victory to Thee, Oh Jagadamba Bhavani".

BHAYI PRASANNA ADI JAGADAMBA - DAYI SHAKTI NAHIN KEEN VILAMBA
Then, Oh Primal Goddess Jagadamba, You were propitiated and in no time You bestowed Him with his lost powers.

MAUKON MATOU KASHTA ATI GHERO - TOUM BIN KAUN HAREY DUKH MERO
Oh Mother! Severe afflictions distress me and no one except Your Honored Self can provide relief please end my afflictions.

ASHA TRISHNA NIPAT SATAVEIN - MOHA MADADIK SAB BINSHAVEIN
Hopes and longings ever torture me. All sorts of passions and lust ever torment my heart.

SHATRU NASH KIJEY MAHARANI - SOUMIRON IKCHIT TOUMHEIN BHAVANI
Oh Goddess Bhavani! I meditate only upon You please kill my enemies, Oh Queen!

KARO KRIPA HEY MATOU DAYALA - RIDDHI SIDDHI DEY KARAHOU NIHALA
Oh Merciful Mother! Show me your favor and make me feel happy by bestowing me with all sorts of riches and powers.

JAB LAGI JIYOUN DAYA PHAL PAOUN - TOUMHRO YASH MEIN SADA SOUNAOUN
Oh Mother! May I be respectable of Your grace as long as I live, ever recounting the feats of Your Glory to all.

DURGA CHALISSA JO NAR GAVEY - SAB SOUKH BHOG PARAMPAD PAVEY
This way, whoever sings this Durga Chalisa shall ever enjoy all sorts of pleasures and shall attain the highest state in the end.

DEVIDAS SHARAN NIJ JANI - KARAHOUN KRIPA JAGADAMBA BHAVANI
Deeming Devidas to have sought Your shelter, Oh Bhavani, grant me Your favor.
---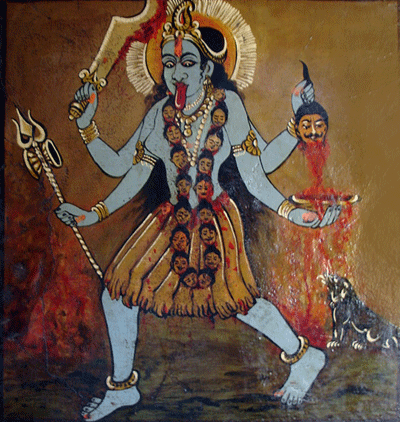 JAYATI MAHAAKAALII JAYATI,
AADYA KAALII MAATA
JAI KARAALA VADANE JAYATI,
JAGATA MAATU VIKHYAATA

Victory to you, O Mahakali! Victory to you, O primordial source of all beings! Victory to you, O formidable-looking goddess, who are renowned as the mother of the world!

JAI JAI RUUPA PRACHANDIKAA,
MAHAAKAALIKAA DEVI
JAYATI JAYATI SHIVA-CHANDRIKAA,
SURA NARA MUNIJANA SEVI

Victory, all victory to you, O great goddess Mahakalika, of terrible and frightening aspect! Victory to you, O Moon on the locks of Shiva who are ever adored by gods, men, hermits and devotees.

JAYATI JAYATI RAKTAASANAA,
RAUDRAMUKHI RUDRAANII
ARI SHONITA KHAPPARA BHARANII,
KHADAGA DHAARINII SHUCHI PAANI

Victory, all victory to you. O consort of Rudra; you are fearsome to look at and prefer a drink of hot blood; you are described as having a sword in your hallowed hand and as one who fills her cranial bowl with the blood of her victims.

JAI JAI JAI MAIYAA SHRII KAALII
JAYATI KHADAGA KARA KHAPPARA VAALII
JAYATI MAHAAMAAYAA VIKARAALAA
RUDRA-SHAKTI KAALAHUN KO KAALAA

Glory, glory to you, O Kali, the bearer of a cranial bowl and a sword in your hands. Victory to you, O terrible Delusion, the might of Rudra and the very death of Death.

MAAN MADHU KAITABHA KE VADHA HETU
PRAGATI SHRII HARI KE TANA SE TUU
SHYAAMALA GAATA MAATA TAVA SOHATA
RAVI SAMA CAVI LAKHI CHAVIPATI MOHATA

O Mother, it is for the slaughter of the demons Madhu and Kaitabha that you appeared from the body of Hari. O Mother, your dark form radiant as the sun looks so splendidly winsome that the god of beauty himself cannot but succumb to its charm.

DASHA MUKHA TIISA NETRA MANA BHAAVANA
BHAALA BAALA SHASHI MUKUTA SUHAAVANA
KO CHAVI VARANI SAKAI MAAN TERII
SHYAAMA KESHA JANU GHATAA SUGHERII

You are ten-faced with thirty attractive eyes, the crescent moon and a lovely coronet on your head. O Divine mother; who can describe your comeliness and your dark hair like massed clouds?

URA ARI MUNDAMAALA CHAVI CHAAJATA
ASTRA SHASTRA DASHA HASTA VIRAAJATA
KHAPPARA KHADAGA TRISHUULA KUTHAARII
GADAA CHAKRA DHANU SHANKHA SUDHAARII

The beauty of the wreath made of your victims' skulls looks splendid as do the weapons and missiles in all your ten hands. You carry a cranial bowl, a sword, a three-pronged trident, an axe, a club, a disc, a bow and a conch, all in their proper places.

ARI KARA KATANA GHAANGARAA RAAJAI
ANGA-ANGA SHUCHI BHUUSANA SAAJAI
RANJITA RAKTA DASA CHARANA KARAALAA
JIHI VISHAALA RUUPA VIKARAALAA

The beautiful skirt made of the severed arms of your enemies looks so becoming like the sacred ornaments adorning every part of your body. Your ten dread feet are all smeared with blood and your long tongue sticks out, rendering your appearance frightening.

JABAHIN ATTAHAASA MAA KARATII
KAAMPATA THARA-THARA THARA-THARA DHARATII
AADI SHAKTI DHANI JAGA DHAATRII
MAHAA PRALAYA KII ADHISHTHAATRII

When, O Mother, you laugh aloud, the earth shivers (like one suffering from shaking chills). Blessed are you, O Primordial Energy and foster-mother of the world, you are the presiding deity of Doom (who causes universal destruction).

MAAN TAVA PRAGATA SHRII SHANKARA
RASANAA BAAHARA VADANA BHAYANKARA
DHANI DHANI KALAKATTE KII KAALII
SAHASABHUJI SHRII SHIVAPURA VAALII

O Mother Kali! It is your divine feet that made Shiva's appearance possible in the world; you have long protruding tongue and a frightening look. Blessed, all blessed are you O Mother Kali of Calcutta, who are thousand-armed and who have your abode in Shivapura.

TUUHII KAALII SIYA DASHAMUKHA NAASHYO
SHRII RAGHUPATI PADA VIJAYA VILAASO
JAGA SUKHA SHAANTI HETU KALYAANAA
KARIIN RUUPA DHAARANA VIDHI NAANAA

O Kali, as Sita you were instrumental in bringing about Ravana's destruction and Raghupati's victory which, appearing became amorous of the Lord's feet. You assumed manifold forms for the well being peace and happiness of the world.

TUU HII SHRII KRISHNA RUUPA KII KAALII
CHANDRAHAASA MURALII KARA VAALII
CHATURBHUJII TAU ASTABHUJII DHAARII
KAHUN DASHABHUJA ASHTAADASHAKARII

You manifested yourself in the form of Krishna and let your sword be mysteriously transformed into a flute in his hand. Sometimes you take on the form of Vishnu with his four arms, at other times of one (Durga, for example) having eight arms, at still other one having ten or eighteen arms.

KAHUN BATIISA CHAUSATHA BHUJA DHAARATA
KAHUN SAHASRA BHUJA KARI ARI MAARATA
TUU HARI SHAKTI ARDHA VAALII
TIIKSHANADANTA RASANAA RISI VAALII

You sometimes appear with thirty-two arms, at other times with just the double this number, and at still others you multiply your arms into a thousand in order to slay your enemies. You are the very power of Hari invoked with prayer at midnight; you have long sharp fangs and a protruding tongue showing your blood-thirsty and fearsome nature.

RAKTACHANDIKAA KHADAGA DHAARINII
RUDRA CHANDRIKAA KHALA SANHAARINII
SHRII SATASHRINGII AADYA KAALII
KAALII KHOHA NIVAASINI VAALII

You are furious combatant with a sword in your hand (you are usually shown on the battlefield or in a cremation ground where you sit on a corpse surrounded by jackals and goblins); you are at once soothing like the moon and fearsome like Rudra and the slayer of the wicked. You are a sublime as a hundred-peaked mountain and a primordial deity of black or dark complexion. You dwell amongst dark, untrodden caverns.

AADI MAATU TUUHII NARA SHIRAMAALII
TUMHIIN KANSA HANANII VAITAALII
TUMHIIN BHADRAKAALII KAILAASHII
SADAA KHALANA KE RAKTA MKII PYAASII

You are the original mother (of all beings) and at the dame time a dread deity with human heads for your garland; you are the very slayer of Kansa and subduer of ghosts and goblins; you are yourself Bhadrakali, a dweller on Kailasha and one who thirsts for the blood of the wicked.

KHACHA-KHACHA-KHACHA SHIRA KATI SHATRU KARA
BHARA-BHARA-BHARA SHONITA KHAPPARA BHARA
DALA-DALA-DALA DAANAVA BHAKSHANA KARA
CHALA-CHALA CHALA-CHALA RAKTA KHALANA KARA

Again and again you strike off the heads of your enemies (with your lashing sword) and fill your cranial bowl with blood (oozing from corpses). You gorge yourself on the demon host one after another and rushing on and on shed their wicked blood.

GANI-GANI-GANI ARI KARAHU NIPAATAA
DHANI-DHANI-DHANI SHRII KAALII MAATAA
YAHI ARADAASA DAASA KAHAN MAAII
PUURAHU AASA TU HOU SAHAAII

Blessed, blessed, blessed are you, O Mother Kali, who cause your enemies to lick the dust one after another. I entreat you, O mother, to fulfil your votary's expectations and grant me your favour.

PARYO GAADHA SANKATA ABA BHAARII
KEHI KAA MAIYAA AAJA PUKAARII
CHARI CHORA LAAGYO MAGA MOHII
KARANA CHAHATA RAGHUPATI KO DROHII

I am in a perilous predicament O Mother, and know not whom to call for help. I am being pursued on the rough roads of life by four robbers who are bent upon turning me against the Lord of the house of Raghu Rama.

HAI YEHII SHATRUNA KAA BHUUPAA
KAAMA KRODHA MOHA LOBHA SARUUPAA
INHIIN DEHUN YADI ANTA PACHAARII
TABAHIN MILAHIN BHAGAVANTA MURARII

These are my prime enemies, the sovereign lords of all the deadly evils; lust, anger, infatuation and avarice. If you overthrow them (and abandon me not to my troubles), I would be blessed with devotion to the enemy of Mura, namely, Lord Krishna.

DUUJO EKA ARJA YAHA MAATAA
TODAHU SAPADI KHALANA KE TAANTAA
JETE DUSHTA MAHAA APARAADHII
BADAKARMII PAAMARA BAKA VYAADHII

I also urge you, Mother, to put an end to the unending string of the wicked (bent on vexing me) immediately. All those wicked souls, who are confirmed sinners, evil-doers, mean and suffer from idle volubility and vain chattering:

JO NITA BINU APARAADHA SATAAVATA
DHARMA KARMA SHUBHA HO NA PAAVATA
TINHIN MAATU TUU CHAKI JAA HAALII
BACHANA PUTRA KII HOYA NA KHAALII

Those who cause vexation without being provoked and who render all religious observances and propitious activities fruitless, you pick up, O Mother and slaughter them without delay; let not this prayer of your son go in vain.

PUNI BANI AINDRII AAVAHU MAATAA
ADBHUTA SHAKTI DIKHAAVAHU MAATAA
JHATAPATA LEHU KHALAHIN SANHAARI
MORI MAATU JANI KARAHU ABAARII

I entreat you, O Mother, to reveal yourself as the power of Indra (or as Indrani or as Durga) and display your wondrous might. Slay the villains promptly without further delay.

BHARAHU SHANTI SUKHA DHANA JANA DHAAMAA
ATI ANANDA HOII YAHA GRAAMAA
PUNI PUNI VINAVAHI SUNDARADAASAA
MAIYAA PUURA KARAHU ABHILAASHAA

Fill the homes of your devotees with peace, happiness and prosperity so that this countryside becomes a seat of growing exultation and felicity. Sundardasa bows to you again and again, O Mother, and supplicates you to fulfill his expectations.

---

The Armor of Kali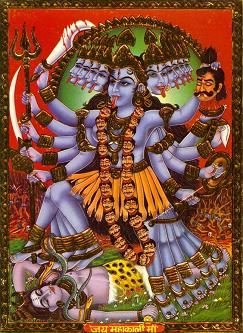 The Respected Eternal Lord Shiva said:

Now I say that Kali Kavach, the one which Lord Brahma had uttered for invoking Mahakali for eliminating the darkness.

Lord Shiva, the victor of all the three realms, Mahashiva is the narrator of this Kali Kavach. Its meter is anushtup (Vedic verse) and its deity is Mahakali, the eliminator of all the darkness.

The seed mantra of maya is the seed. Beauty is the energy that lifts to gladness. Krim is the pin and the perfect attainment and protection of desires is the application for which it is widely known.

Hrim, may the Foremost protect my head. Shrim, may the Goddess Devi who eliminates darkness protect my face. Krim, may the Supreme Energy repose in my heart as the source of all strength. May the Greater than the Greatest repose in my throat to protect ever my voice.

O Goddess, Creator of the Perceivable Universe, please repose in my eyes to protect my vision. O Goddess of peace, Devi Shankari, may You protect my ears. May the Goddess Mahamaya, the ultimate Measurement of Consciousness, protect my nose. O welfare endower, may you protect my tongue and taste.

O Goddess of all piety, Kaumari Devi, please protect my teeth. O Goddess who resides in the lotus, Kamalamayi, may You protect my cheeks. O Goddess of forgiveness, Kshamamayi, may You protect my lips, and O Charuhasini, protect my chin.

O Param Mahamayi! May You protect my neck, and She who is the manifestation of all the noble sentiments of altruism, protect my upper back. May the Goddess who is the grantor of all strength protect both my arms, and O giver of non-duality, Kaivalyadayini, protect both my hands.

May the extremely fierce one protect both my shoulders. May the illuminator of the three worlds protect my back. May She who is indivisible from any side ensure my protection from every side, and may She who exists in all power and capability protect my waist.

May the Goddess with great eyes protect my navel region. May the Goddess of light, Prabhavati, protect my private region. May the Goddess who is all welfare, Kalyani, protect my thigh region, and may Parvati Herself protect both my feet.

Victory to thee, Durga Devi! Please protect my life breath and all the Siddhis that I possess. May She who grants all achievement protect my whole body. May She also protect all those my parts that have not been mentioned in this prayer or that are not mentionable.

May I always stay under the protection of that Devi who is the foremost eternal Divine Mother, She who removes all the darkness. This whole universe is the exposition of Her manifestation, She Who is the victor of all the three realms.

This is the Kavach of that Devi Kali who removes all darkness and who is the Eternal Divine Mother.

The aspirant who recites this Kavach with full feeling every morning after respectfully invoking the Goddess has all desires fulfilled. With total surrender unto the Goddess he gets the most complete attainment of perfection, and with limited offerings or surrender he receives limited rewards.

Those who recite this Kavach have their desires fulfilled; the issueless get children, the moneyless get riches, and the students get good education. Thus they who read this Kavach get their ambitions realized.

Reciting this Kavach a thousand times is equivalent to completing the homa offering.

This Kavach if written on the bark of the birch tree with a sandalwood piece, wood-apple scent, red vermilion, and red sandalwood powder mixed to a paste, would give much reward to the person who wears it.

When worn on the crown of the head, at the upper right arm, at the throat, or on the waist, Kalika Devi yields to such a person and bestows the desired results.

The reading of this Kavach removes all the fears of the aspirant and grants him victory everywhere. Such a person remains free from infirmities and is long-aged; even those who are weak become strong.

Such a native becomes an erudite scholar well versed in all scriptural disciplines. He develops a sharp and powerful brain. He receives protection in the entire world, becomes established in enjoyment, and surely receives salvation (Moksha). This way he passes his entire life in prosperity and happiness.

Now you are capable of knowing this supreme knowledge, which destroys all the filth of this Age of Darkness and removes all the darkness of ignorance.
SHREE SADASHIV UVAACH:

KATHITAM PARAMAM BRAHMA PRAKATEIH STUVANAM MAHAT,
AADYAAYAAH SHREE KAALIKAYAH KAVACHAM SHRUNU SAAMPRATAAM

TRAILOKYA VIJAYASYAASYA KAVACHASYA RISHI SHIVAH,
CHHANDOANUSTUPDEVATA CHA AADYA KALI PRAKEERTITAH

MAYABEEJAM BEEJAMITI RAMA SHAKTI RUDAHRITA
KREEM KEELAKAM KAMYASIDDHAU VINIYOGAH PRAKEERTITAH

HEEMAADYAA ME SHIRAH PAATU SHREEM KALI VADANAM MAM
HRIDAYAM KREEM PARASHAKTI PAAYAAT KANTHAM PARATPARA

NETRE PAATU JAGATDHAATRI KARNAU RAKSHATU SHANKAREE
PRANAM PAATU MAHAMAYA RASANA SARVA MANGALA

DANTAAN RAKSHATU KAUMARI KAPOLAU KAMALAALAYA
OSHTHADHARAU KSHAMA RAKSHETCHIBUKAM CHARUHAASINI

GREEVAN PAAYAT KULESHAANI KAKUT PAATU KRIPAAMAYI
DWO BAHU BAHUDA RAKSHET KARAU KAIVALYADAAYINI

SKANDAU KAPIDINI PAATU PRISHTHAM TRAILOKYA TAARINI
PAARSVEI PAYAADAR PRANA ME KATI ME KAMATHAASANA

NABHAU PAATU VISHAALAKSHI PRAJASTHPNAM PRABHAVATI
URUM RAKHATU KALYANI PADAUME PAATU PAARVATI

JAYADURGAAVATU PRAANDAN SARVAANG SARVA SIDHADA
RAKSHA HEENANTO YAT STAANAM VARJITAM KAVACHENA CHA

TAT SARVA ME SADA RAKSHEDADYA KOLI SANTANI
ITI TE KATITAM DIVYAM TRAILOKYA VIJAY BHIDHAM

KAVACHAM KALIKA DEVYAM AADYAYAH PARAM ADBHUVAM

POOJAKALE PATHEDYASTU AADYADHI KRITA MANSAH
SARVAN KAMANVAAPNOTO TASYADYA SUPRASEEDATI
MANTRA SIDDHA BHAVE DAASHU KINKARAH KHVDRA SIDDHAYAH

APUTRO LABHATE PUTRAM DHANARTHI PRAPONUYADHA NAMAH
VIDYAARTHEE LABHATE VIDYAM KAAMI KAMAN VAPNUYAAT

SAHASTRA VRITTA PATHENA VARMANOASYA PURASKRIYA
PURASHCHARAN SAMPANNA YATHOKTA PHALDAM BHAVET

CHANDANAAGARU KASTURI KUNJUMEI RAKTACHANDANEIH
BHOORJE VLAKHYA GUTIKAM SWARNASTHAN DHARYED YADI

SHIKHAAYAN DAKSHINE BAHAU KANTHE VA SADHAKAH KATAU
TASYAADDYAA KAALIKA VASHYA VAANCHITAARTH PRAYACHHI TI

NA KUTRAPI BHAYAM TASYA SARVATRA VIJAYI KAVIH
AROGI CHIRAJEEVI SYAT BALWAAN DHARANSKHAM

SARVA VIDYASU NIPUNAH SARVA SHAASTRARTH TATVA VID
VASHEE TASYA MAHEEPALA BHOGA MOKHAU KARASTHITAU

KALI KALMASH YUKTAANAM NISHREYASKARAM PARAM

---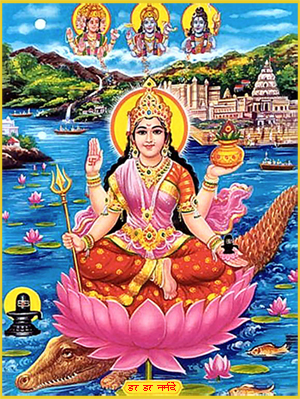 नर्मदाष्टकं

narmadāṣṭakaṃ

सबिन्दुसिन्धुसुस्खलत्तरंगभंगरञ्जितम्

द्विषत्सु पापजातजातकारिवारिसंयुतं ।

कृतान्तदूतकालभूतभीतिहारिवर्मदे

त्वदीयपादपङ्कजं नमामि देवि नर्मदे ॥१॥

sabindusindhususkhalattaraṃgabhaṃgarañjitam

dviṣatsu pāpajātajātakārivārisaṃyutaṃ |

kṛtāntadūtakālabhūtabhītihārivarmade

tvadīyapādapaṅkajaṃ namāmi devi narmade ||1||

त्वदंबुलीनदीनमीनदिव्यसंप्रदायकं

कलौमलौघभारहारिसर्वतीर्थनायकम् ।

सुमच्छकच्छनक्रचक्रवाकचक्रशर्मदे

त्वदीयपादपङ्कजं नमामि देवि नर्मदे ॥२॥

tvadaṃbulīnadīnamīnadivyasaṃpradāyakaṃ

kalaumalaughabhārahārisarvatīrthanāyakam |

sumacchakacchanakracakravākacakraśarmade

tvadīyapādapaṅkajaṃ namāmi devi narmade ||2||

महागभीरनीरपूरपातधूतभूतलं

नमत्समस्तपातकारिदारितापदाचलम् ।

जगल्लये महाभये मृकण्डुसूनुहर्म्यदे

त्वदीयपादपङ्कजं नमामि देवि नर्मदे ॥३॥

mahāgabhīranīrapūrapātadhūtabhūtalaṃ

namatsamastapātakāridāritāpadācalam |

jagallaye mahābhaye mṛkaṇḍusūnuharmyade

tvadīyapādapaṅkajaṃ namāmi devi narmade ||3||

गतं तदैव मे भयं त्वदंबु वीक्षितं यदा

मृकण्डुसूनुशौनकासुरारिसेवितं सदा ।

पुनर्भवाब्धिजन्मजं भवाब्धिदुःखवर्मदे

त्वदीयपादपङ्कजं नमामि देवि नर्मदे ॥४॥

gataṃ tadaiva me bhayaṃ tvadaṃbu vīkṣitaṃ yadā

mṛkaṇḍusūnuśaunakāsurārisevitaṃ sadā |

punarbhavābdhijanmajaṃ bhavābdhiduḥkhavarmade

tvadīyapādapaṅkajaṃ namāmi devi narmade ||4||

अलक्ष्यलक्षकिन्नरामरासुरादिपूजितं

सुलक्षनीरतीरधीरपक्षिलक्षकूजितम् ।

वसिष्ठशिष्टपिप्पलादिकर्दमादि शर्मदे

त्वदीयपादपङ्कजं नमामि देवि नर्मदे ॥५॥

alakṣyalakṣakinnarāmarāsurādipūjitaṃ

sulakṣanīratīradhīrapakṣilakṣakūjitam |

vasiṣṭhaśiṣṭapippalādikardamādi śarmade

tvadīyapādapaṅkajaṃ namāmi devi narmade ||5||

सनत्कुमारनाचिकेतकश्यपात्रिषट्पदै

र्धृतं स्वकीयमानसेषु नारदादिषट्पदैः ।

रवीन्दुरन्तिदेवदेवराजकर्मशर्मदे

त्वदीयपादपङ्कजं नमामि देवि नर्मदे ॥६॥

sanatkumāranāciketakaśyapātriṣaṭpadai

rdhṛtaṃ svakīyamānaseṣu nāradādiṣaṭpadaiḥ |

ravīndurantidevadevarājakarmaśarmade

tvadīyapādapaṅkajaṃ namāmi devi narmade ||6||

अलक्षलक्षलक्षपापलक्षसारसायुधं

ततस्तु जीवजन्तुतन्तुभुक्तिमुक्तिदायकं ।

विरिञ्चिविष्णुशंकरस्वकीयधामवर्मदे

त्वदीयपादपङ्कजं नमामि देवि नर्मदे ॥७॥

alakṣalakṣalakṣapāpalakṣasārasāyudhaṃ

tatastu jīvajantutantubhuktimuktidāyakaṃ |

viriñciviṣṇuśaṃkarasvakīyadhāmavarmade

tvadīyapādapaṅkajaṃ namāmi devi narmade ||7||

अहो धृतं स्वनं श्रुतं महेशिकेशजातटे

किरातसूतबाडबेषु पण्डिते शठे नटे ।

दुरन्तपापतापहारि सर्वजन्तुशर्मदे

त्वदीयपादपङ्कजं नमामि देवि नर्मदे ॥८॥

aho dhṛtaṃ svanaṃ śrutaṃ maheśikeśajātaṭe

kirātasūtabāḍabeṣu paṇḍite śaṭhe naṭe |

durantapāpatāpahāri sarvajantuśarmade

tvadīyapādapaṅkajaṃ namāmi devi narmade ||8||

इदं तु नर्मदाष्टकं त्रिकालमेव ये सदा

पठन्ति ते निरन्तरं न यान्ति दुर्गतिं कदा ।

सुलभ्यदेहदुर्लभं महेशधामगौरवं

पुनर्भवा नरा न वै विलोकयन्ति रौरवम् ॥९॥

idaṃ tu narmadāṣṭakaṃ trikālameva ye sadā

paṭhanti te nirantaraṃ na yānti durgatiṃ kadā |

sulabhyadehadurlabhaṃ maheśadhāmagauravaṃ

punarbhavā narā na vai vilokayanti rauravam ||9||
Narmada Ashtakam
composed by Shri Adi Shankaracharya
Salutations to Devi Narmada. Your river-body illumined with sacred drops of water, flows with mischievous playfulness, bending with waves.
Your Sacred Water has the divine power to transform those who are prone to hatred, the hatred born of sins.
You put an end to the fear of the messenger of Death by giving Your protective Armor.
Oh Devi Narmada, I bow down to Your Lotus Feet, please give me shelter. || 1 ||
You confer Your Divine Touch to the Lowly Fish merged in Your Holy Waters.
You take away the weight of the sins in this age of Kali; and You are the foremost among all Tirthas (Pilgrimage).
You confer happiness to the many fishes, tortoises, crocodiles, geese and birds dwelling in Your Water.
Oh Devi Narmada, I bow down to Your Lotus Feet, please give me shelter. || 2 ||
Your river-body is deep and overflowing, the waters of which remove the sins of the Earth,
and it flows with great force making a loud reverberating sound, splitting asunder mountains of distresses, the distresses which bring our downfall.
In the heat of this world, You provide the place of rest and assure great fearlessness; You who gave the place of refuge at Your banks to the son of Rishi Mrikandu (Rishi Markandeya was the son of Rishi Mrikandu).
Oh Devi Narmada, I bow down to Your Lotus Feet, please give me shelter. || 3 ||
Oh Devi, after I have seen Your Divine Waters, my attachment to the worldly life has indeed vanished.
Your waters is revered by the son of Rishi Mrikandu (The son of Rishi Mrikandu was Rishi Markandeya), Rishi Shaunaka, and the enemies of the Asuras (Devas).
Your waters are a protective shield against the sorrows of the ocean of worldly existence, caused by repeated births in this ocean of Samsara.
Oh Devi Narmada, I bow down to Your Lotus Feet, please give me shelter. || 4 ||
You are worshipped by innumerable invisible celestial beings like Kinnaras (Celestial Musicians), Amaras (Devas), and also Asuras and others.
Your river-body with auspicious Waters, as well as Your river-banks which are calm and composed, are filled with the sweet sounds of innumerable cooing birds.
You confer happiness to great sages like Vashistha, Sista, Pippala, Kardama and others.
Oh Devi Narmada, I bow down to Your Lotus Feet, please give me shelter. || 5 ||
By Rishis like Sanatkumar, Nachiketa, Kashyapa and others who are like bees seeking the honey of divine communion,
Your Lotus Feet is held in their heart; and also by sages like Narada and others.
You confer Happiness to Ravi (Sun), Indu (Moon), Ranti Deva and Devaraja (Indra) by making their works successful.
Oh Devi Narmada, I bow down to Your Lotus Feet, please give me shelter. || 6 ||
You cleanse innumerable invisible and visible sins with Your river-body, the banks of which are beautifully decorated with countless Sarasas (cranes or swans).
In that Holy Place, You give both Bhukti (worldly prosperity) as well as Mukti (liberation) to all living beings.
The presence of Brahma, Vishnu and Shankara in Your Holy Abode provides a protective shield of blessings to the devotees.
Oh Devi Narmada, I bow down to Your Lotus Feet, please give me shelter. || 7 ||
Oh, Nectar of Immortality, flowing down as Your river-body, originating from the matted hairs of Shankara, and filling Your river banks,
there, everyone, whether Kirata (Mountain-Tribe), Suta (Charioteer), Vaddava (Brahmin), Pandit (Learned and Wise) or Shattha (Deceitful) gets purified within the dance of Your Waters.
By vigorously removing Papa (sins) and Tapa (heat of the miseries of life) of all living beings, You confer that Happiness born of Purification.
Oh Devi Narmada, I bow down to Your Lotus Feet, please give me shelter. || 8 ||
Those who recite constantly during three times of the day this Narmadashtakam, they do not ever undergo misfortune,
it will become easy to obtain the great privilege of going to the abode of Mahesha, which is very difficult for an embodied being to attain,
And these people will no longer see the fearful world again (by taking birth). || 9 ||

---