Navaratri
eight

Mahagauri

one

Shailaputri

six

Katyayani

three

Chandraghanta

five

Skandamata

seven

Kalaratri

four

Kushmanda

nine

Siddhidatri

two

Brahmacharini
Navaratri is an important Hindu holiday observed for 9 nights and 10 days. During Navaratri the nine forms of goddess Durga are worshipped:
Shailaputri

Brahmacharini

Chandraghanta

Kushmanda

Skandamata

Katyayani

Kalaratri

Mahagauri

Siddhidatri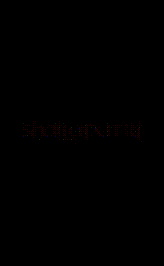 Navdurga (the nine Durgas)
Navaratri is celebrated four times a year. As per Mahakala Samhita they are:
Ashada Gupta Navaratri (June-July);

Ashwin Navaratri, or Shardiya Navaratri, or Maha Navaratri (September-October);

Magh Gupta Navaratri (January-February);

Vasantha Navaratri or Chaitra Navaratri (March-April);
Of these, the Sharada Navaratri of the month of Puratashi and the Vasantha Navaratri of the Vasantha kala are very important. If you refer to the agni purana, then it is said that the Puratashi and Panguni (in Tamil months) i.e. Asvin and Chaitra are like the two jaws of Lord Yama. If one wants to escape the mouth of Yama, then one should celebrate Navaratri on these two occasions. A similar analogy is presented in the Devi Bhagavatam. Devi Bhagavatam also talks in detail on how one should observe fasts, and how one should meditate/work on these days. According to legend, Durga sat on the tip of a needle for nine days, doing a severe penance to destroy the evil Asura Mahisha. On the first three days, she meditated as Herself, the next three days as Mahalakshmi and the last three days as Sarasvati. This signifies progression from tamsik, to rajasik, to satvik and eventually obtaining liberation. The tenth day during Sharada Navaratri is called vijayadashami to signify the victory on the day of dashami. It is, however, a long tradition that one reads the Devi-Bhagavatam or the Devi Mahatmyam (Durga Saptasati, 700 verses on Durga) during this period. Devi Bhagavatam notes that Rama meditated and fasted for nine days after Sita was kidnapped by Ravana. There are numerous such incidents on how people's wishes were granted.
The other two Navratri's are known as Gupt Navratri meant for Sadhaks and performing special powerful tantrik rituals.
Ashad Navaratri, also known as Gupta Navratri or Varahi Navaratri, is a 9-day festival dedicated to Goddess Varahi Devi. It is observed in Shukla Paksha of Ashad month. These are very auspicious days for the tantriks, sadhaks, for sadhana and also for any other specific tantrik pooja to resolve the materialistic problems. By keeping fasts, chanting shlokas and mantras, the devotees show their regard for the Goddess. It is believed that during Navratri, the Goddess promptly heeds to devotees and fulfill wishes. She is worshiped in the three forms of the divine femininity, as the remover of vices, as the bestower of wealth and prosperity and as the Goddess of wisdom.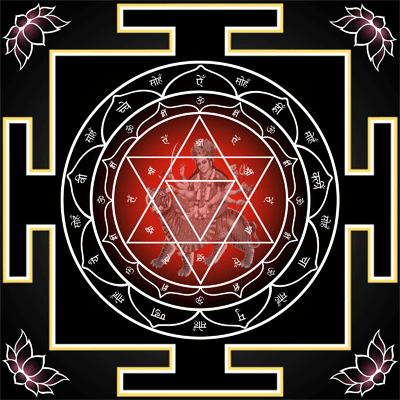 Navaratri Festivals List
Day 1 - Ghatasthapana, Shailaputri Puja

Day 2 - Brahmacharini Puja

Day 3 - Chandraghanta Puja

Day 4 - Kushmanda Puja

Day 5 - Upang Lalita Vrat, Skandamata Puja

Day 6 - Katyayani Puja

Day 7 - Maha Saptami, Kalaratri Puja

Day 8 - Mahashtami, Durgashtami, Kumari Puja, Mahagauri Puja

Day 9 - Maha Navami, Navami Homam, Siddhidatri Puja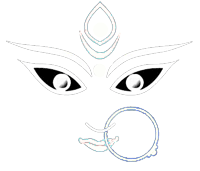 Chandi Homam
There are numerous rites and traditions observed during the Navaratris. Rituals that vary from region to region. One of the most important of these is Chandi Homam.
Chandi is like a road roller. She creates a path if there is none, moves slumber to action, gives inspirations and holds hands till the end. She is Mahakali, Mahalakshmi and Mahasarasvati, all in one.
Chandi Homam is a worship of Goddes Durga as the Mother of the Universe (it is considered an amalgamation of three deities, namely, Maha Kali, Maha Lakshmi and Maha Sarasvati).
The purpose of the Chandi Homam is to remove any obstacles or blockages in growth – both internally and externally – for a person or a group of people. Chandi Homa is very useful for getting success, wealth, prosperity, fame, removal of fear, health, longevity, fulfilling of desires, food, progeny, strength, removing ailments, removing danger etc.
Benefits of Chandi Homam
Achieving success in all endeavors: examination, job, etc.

Success in business ventures and professions and to overcome problems in business.

Attainment of health and longevity, curing physical disabilities, severe infliction's and mental disorder.

Begetting progeny (children) and also preventing deformities and pregnancy related problems.

Accomplishment in performing arts.

To ward off malevolent planetary influences and ill effects of sorcery and witchcraft.

To resolve Jathaka Dosha and Vastu Dosha.

Performing this Homa once a year, bestows you with the power and supremacy to fulfill and accomplish success in your life span.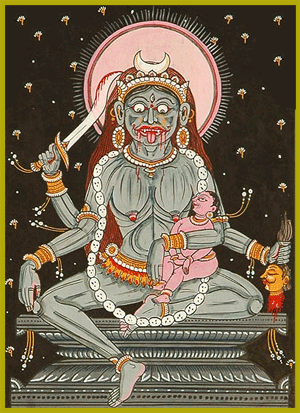 ---
प्रातः स्मरामि शरदिन्दुकरोज्ज्वलाभां
सद्रत्नवन्मकरकुण्डलहारभूषाम् ।
दिव्यायुधोर्जितसुनीलसहस्रहस्तां
रक्तोत्पलाभचरणां महतीं परेशाम् ॥१॥
prātaḥ smarāmi śaradindukarojjvalābhāṃ
sadratnavanmakarakuṇḍalahārabhūṣām ।
divyāyudhorjitasunīlasahasrahastāṃ
raktotpalābhacaraṇāṃ mahatīṃ pareśām ॥1॥
At morning, I bring to mind the Supreme Goddess, whose hands have rays of light like the winter moon, which has crocodile-shaped earrings and a necklace studded with gems, whose thousand hands are of a beautiful blue color due to the excitement of battle, whose feet have rays similar to those of a red lotus and which is supreme.
प्रातर्नमामि महिषासुरचण्डमुण्ड-
शुम्भासुरप्रसुखदैत्यविनाशदक्षाम् ।
ब्रह्मेन्द्रमुनिमोहनशीललीलां
चण्डीं समस्तसुरमूर्तिमनेकरूपाम् ॥२॥
prātarnamāmi mahiṣāsuracaṇḍamuṇḍa-
śumbhāsuraprasukhadaityavināśadakṣām ।
brahmendramunimohanaśīlalīlāṃ
caṇḍīṃ samastasuramūrtimanekarūpām ॥2॥
At morning, I salute Caṇḍī, who is able to destroy legendary demons like Mahişāsura, Caṇḍa, Muṇḍa and Śumbha. I salute the one who with her virtuous sport attracts Brahmā, Indra and sages, she who is present in all forms of demigods, and who has infinite forms.
प्रातर्भजामि भवतामभिलाषदात्रीं
धात्रीं समस्तजगतां दुरितापहन्त्रीम् ।
संसारबन्धनविमोचनहेतुभूतां
मायां परां समधिगम्य परस्य विष्णोः ॥३॥
prātarbhajāmi bhavatāmabhilāṣadātrīṃ bhajatAmabhilASha
dhātrīṃ samastajagatāṃ duritāpahantrīm ।
saṃsārabandhanavimocanahetubhūtāṃ
māyāṃ parāṃ samadhigamya parasya viṣṇoḥ ॥3॥
At morning, I adore the Goddess, the one who fulfills the desires of living beings, who is the mother who supports everything, who destroys the difficult pains of the whole world, which takes a form for the liberation of the world from the cycle of birth and death, which is the unsurpassable Māyā respectfully worshiped by Viṣṇu.
श्लोकत्रयमिदं देव्याश्चण्डिकायाः पठेन्नरः ।
सर्वान्कामानवाप्नोति विष्णुलोके महीयते ॥४॥
ślokatrayamidaṃ devyāścaṇḍikāyāḥ paṭhennaraḥ ।
sarvānkāmānavāpnoti viṣṇuloke mahīyate ॥4॥
He who reads these three Śloka on Goddess Caṇḍikā, achieves all the desires and goes to the world of Viṣṇu.
इति श्रीचण्डीप्रातःस्मरणं सम्पूर्णम् ।
iti śrīcaṇḍīprātaḥsmaraṇaṃ sampūrṇam ।
Here ends the Śrīcaṇḍī Prātaḥsmaraṇam.
---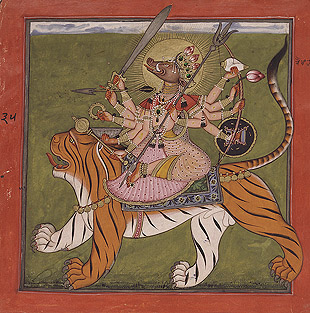 Om hreem varahi hari Om
About Varahi:
Varahi is one of the Matrikas, a group of Mother Goddesses in the Hindu religion.
With the head of a sow, Varahi is the shakti (feminine energy, or sometimes, consort) of Varaha, the boar Avatar of the god Vishnu.
Varahi is worshiped by all the three major schools of Hinduism: Shaktism (goddess worship); Shaivism (followers of the god Shiva); and Vaishnavism (devotion to Vishnu). She is usually worshiped at night, and according to secretive Vamamarga, Kaula marga Tantric practices.
While starting the puja for Varahi:
मातर्वाराहि जाते तवचरण सरोजार्चनंवा जपंवा
mātarvārāhi jāte tavacaraṇa sarojārcanaṃvā japaṃvā
(Mother Varahi I don't know how to do puja or japam)
कर्तुं सक्तोनचाहं तदपिच सदये मय्यतस्त्वांहि या चे
kartuṃ saktonacāhaṃ tadapica sadaye mayyatastvāṃhi yā ce
(Be compassionate as remember)
यस्त्वां दंष्त्रासिताग्रां त्रिणयन लसितां चारुबूदार वक्त्रां
yastvāṃ daṃṣtrāsitāgrāṃ triṇayana lasitāṃ cārubūdāra vaktrāṃ
(when i remember your face)
मूर्तिं चित्ते विधत्ते तदरिगण विनसोस्तु तस्मिन् क्षणेवै ॥
mūrtiṃ citte vidhatte tadarigaṇa vinasostu tasmin kṣaṇevai ||
(that very movement destroy my enemies)
Varahi:
Varahi dandanayaka of Lalitha MahaRagni, she destroys bad and protects the good.
Varaha Kalpa ("Sveta varaha kalpey"): Varaha is a unit of time (large unit of time).
Varahi is power of time resides in Ajña, rules the time.
To safeguard yourself:
After you have done the Purascharana of Varahi, to destroy the enemies just visualize the form of Varahi face and recite her mantra
Benefits of Varahi Puja, Homam:

1. Good health

2. Bestows Wealth and Prosperity

3. Protection from enemies - internal and external

4. Will learn how to live in Present

5. Good Vaak Siddhi

6. Peace of mind

7. Graha dosha and fears will be removed

8. Removes vices

9. Gives wisdom

10. Protects from lack of success and consistent losses in education and career, recurrent loss of job

11. Protects from strained married life, undesired life partner, unsuccessful love life
---
Kanya Puja
During the 4 Navaratris it is a great omen for the Sadhaka to feed and give offerings to the young virgins. The young girls must be at most nine and at the minimum two and must be aged between 2 and 10 years.
Thus they are called according to age, in brackets their respective mantra:
2 years – Kumari (Om Kumariye Namah)

3 years – Trimurti (Om Trimurtye Namah)

4 years – Kalyani (Om Kalyane Namah)

5 years – Rohini (Om Ruhinye Namah)

6 years – Kalika (Om Kalikaye Namah)

7 years – Chandika (Om Chandikaye Namah)

8 years – Shambavi (Om Shambhave Namah)

9 years – Durga (Om Durgaye Namah)

10 years – Subadra (Om Subhadraye Namah)
---
---