---
EVENTI
---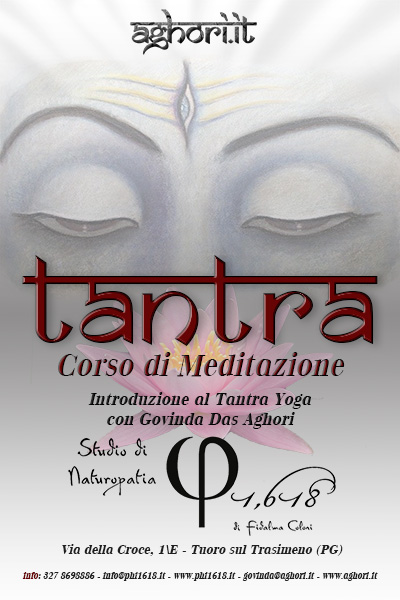 In occidente il Tantra è spesso confuso con pratiche sessuali o rituali oscuri. La parola tantra trae origine dalla radice sanscrita tan che significa espansione e tra che significa liberazione perciò può significare "trama" o "rete", ma può essere anche sinonimo di "dottrina" o "rituale". In realtà il tantra è un insieme di pratiche millenarie volte all'ampliamento della consapevolezza, è l'uso sistematico di corpo e mente come strumenti fisici per la realizzazione spirituale, è una via pratica alla liberazione di corpo e mente.
Questo corso ci permetterà di fare un po' di luce su questa antica disciplina e di sperimentare le svariate tecniche di respirazione, meditazione e di yoga per rilassare corpo e mente e ampliare la consapevolezza.
Verranno insegnate tecniche tra le più disparate: dai semplici stratagemmi e scorciatoie per la liberazione finale, alle forme di meditazione legate alle azioni quotidiane; dai Chakra agli Yantra; dai mantra ai riti di purificazione, all'eterno Dharma (verità).
Il corso prevede un incontro settimanale il giovedì dalle 19.30 alle 21.30.
Partiremo giovedì 6 Ottobre 2016 alle 19.30 presso lo Studio di Naturopatia Phi1618 in via della Croce, 1\E Tuoro sul Trasimeno (PG). Per info contattatemi.
Govinda Das Aghori
---
Simhastha Kumbh Mela Ujjain 22 Aprile - 21 Maggio 2016
La Simhastha Kumbh Mela si tiene ad Ujjain ogni 12 anni quando il Sole è nel segno zodiacale dell'Ariete e Giove in Leone.*
La Simhastha, o Poorna Kumbh Mela è stata celebrata a Ujjain nel 2004 dal 5 aprile al 5 maggio, in tale occasione il rituale del Shahi Snan è stato condotto il giorno di luna piena del 4 maggio. Quasi dieci milioni di fedeli hanno partecipato all'evento. Ujjain ha anche ospitato la Ardha Kumbh nel 2010.
Ujjain è situata sulla riva del fiume Shipra nella regione occidentale del Madhya Pradesh ed è rinomata come uno dei luoghi più sacri dell'India. La città si arricchisce di diversi santuari religiosi come il Mahakaleshwar Jyotirlinga, il Bade Ganeshji Ka Mandir, il tempio Vikram Kirti e molti altri.
* Kumbh a Haridwar: quando il Sole è in Ariete e Giove è in Acquario.
* Kumbh a Allahabad (Prayag): quando il Sole è in Capricorno e Giove in Toro.
* Kumbh a Nasik: quando Giove entra in Leone. Si svolge anche a Nasik, quando Giove, Sole e Luna entrano in Cancro su congiunzione lunare (Amavasya).
* Kumbh a Ujjain: Quando il Sole è in Ariete e Giove in Leone.
Le principali date dei bagni sacri per la Kumbh Mela di Ujjain
| | |
| --- | --- |
| 22 Aprile 2016 (Venerdì) | Purnima - Primo Sahi Snan |
| 3 Maggio 2016 (Martedì) | Vratparv Vauthini Ekadashi |
| 6 Maggio 2016 (Venerdì) | Vaishakh Krishna Amavasya (Primo Pramukh Snan) |
| 9 Maggio 2016 (Lunedì) | Shukla/Akshey Tritya (Secondo Pramukh Snan) |
| 11 Maggio 2016 (Mercoledì) | Shukla Panchami - Shankaracharya Jayanti |
| 15 Maggio 2016 (Domenica) | Vrishabh Sankranti |
| 17 Maggio 2016 (Sabato) | Ekadashi - Pradosh Snan |
| 19 Maggio 2016 (Giovedì) | Pradosh |
| 20 Maggio 2016 (Venerdì) | Nursingh Jayanti |
| 21 Maggio 2016 (Sabato) | Purnima - Shahi Snan |
Simhastha Kumbh Mela Ujjain 22 April to 21 May 2016
Simhastha Kumbh Mela is held every 12 years in Ujjain when the Sun is in the zodiac sign Aries and Jupiter in Leo.
Simhastha, or Poorna Kumbh Mela was celebrated at Ujjain in 2004 from April 5 to May 5, on that occasion the Shahi Snan ritual was conducted on the full moon day of May 4th. Nearly ten million devotees participated the event. Ujjain also hosted the Ardha Kumbh in 2010.
Ujjain is situated on the banks of Shipra River in the western region of Madhya Pradesh and is known as one of the holiest places in India. The city is enriched by several religious shrines like Mahakaleshwar Jyotirlinga, the Bade Ganeshji Ka Mandir, the temple Vikram Kirti and many others.
---
Śrī 108 Baba Krishna Das Aghori 10° Punyatithi
Aghori Peet - Omkareshwar (MP) India
7 Marzo 2015
In occasione del 10° anniversario del Mahasamadhi di Krishna Das Aghori (13/07/1934 - 27/03/2005) all'Aghori Peet di Omkareshwar, dopo la Pooja al Samadhi, si è tenuta una Bhandara (distribuzione del Prasad, il cibo consacrato).
La data dell'anniversario è stata stabilita secondo il calendario lunare.
Qui alcuni video dell'evento:
---
Allahabad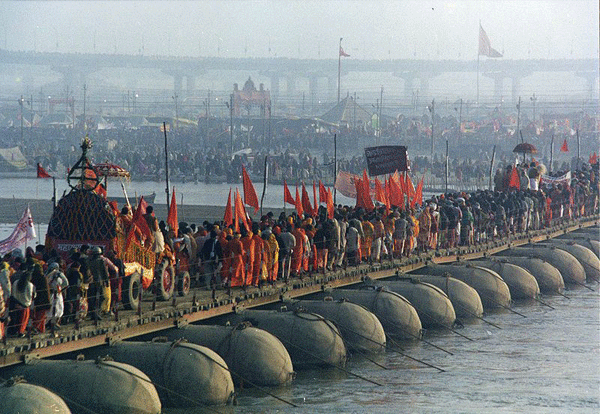 Allahabad is located in the southern part of the Uttar Pradesh at an elevation of 98 meters (322 ft) and stands at the confluence of two rivers: the Ganges and Yamuna.

Allahabad or City of God in Persian, also known as Prayag is a city in the North Indian state of Uttar Pradesh. Allahabad is one of the fastest growing cities in India at present. It is located 238 kilometers south of state capital Lucknow. The ancient name of the city is Prayag and is believed to be the spot where Brahma offered his first sacrifice after creating the world. It is one of four sites of the mass Hindu pilgrimage Kumbh Mela. It has a position of importance in Hindu scriptures for it is situated at Triveni Sangam, the confluence of the holy rivers Ganges and Yamuna, and the ancient Saraswati River.

In 2013 from 27th January to 25th February the Purna Kumbha Mela will be going held in Allahabad which occurs after every 12th years.
Nasik will host the Kumbha Mela in 2015 (August 15 to September 13).
Ujjain will host the Purna Kumbha Mela in 2016 (April 22 to May 21).
Allahabad si trova nella parte meridionale dell'Uttar Pradesh, ad un'altezza di 98 metri e si trova alla confluenza di due fiumi: Gange e Yamuna.

Allahabad, in persiano Città di Dio, nota anche come Prayag è una città nello stato settentrionale indiano dell'Uttar Pradesh. Allahabad è una delle città in più rapida crescita in India in questo momento. Si trova a 238 km a sud di Lucknow, capitale dello stato. L'antico nome della città è Prayag e si crede che sia il luogo in cui Brahma ha offerto il suo primo sacrificio dopo la creazione del mondo. Si tratta di una dei quattro siti del grande pellegrinaggio indù Kumbh Mela. Ha una posizione di rilievo nelle scritture indù perché si trova a Triveni Sangam, la confluenza dei fiumi sacri Gange e Yamuna, e l'antico fiume Saraswati.

Nel 2013 dal 27 Gennaio al 25 Febbraio si terrà ad Allahabad il Purna Kumbha Mela che avviene ogni 12 anni.
Nasik ospiterà il Kumbha Mela nel 2015 (15 agosto - 13 Settembre).
Ujjain ospiterà il Purna Kumbha Mela nel 2016 (22 aprile-21 maggio).
Auspicious bathing dates for 2013 Kumbha Mela, Allahabad

Paush Purnima

Ekadashi Snan

Mauni Amavasya Snan

Basant Panchami Snan

Rath Saptami Snan

Bhisma Ekadashi Snan

Maghi Purnima Snan
---

---
According to astrologers, the 'Kumbh Fair' takes place when the planet Jupiter enters Aquarius and the Sun enters Aries. Kumbha (Kumbha means pot) Mela (means fair) is a sacred Hindu pilgrimage. It takes place at the following four locations of India: Prayag, Allahabad (Uttar Pradesh), Haridwar(Uttarakhand), Ujjain(Madhya Pradesh), Nasik (Maharashtra)

The origin of the Kumbh is very old and dates back to the time when Kalasha (pot of nectar of immortality) was recovered from Samudramanthan (during the churning of the primordial sea), for which a tense war between Devtas (Gods) and Asuras (Demons) ensued. To prevent the Amrita Kalasha being forcibly taken into possession by Asuras, who were more powerful than Devtas, its safety was entrusted to the Devtas Brahaspati, Surya, Chandra and Shani. The four Devtas ran away with the Amrita Kalasha to hide it from the Asuras. Learning the conspiracy of Devtas, Asuras turned ferocious and chased the 4 Devtas running with Amrita Kalasha. The chase, lasted 12 days and nights during which the Devtas and Asuras went round the earth and during this chase, Devtas put Amrita Kalasha at Haridwar, Prayag, Ujjain and Nasik.

To commemorate this holy event of the Amrita Kalasha 12 years. According to other Pauranic legends, actual fight in the Amrita Kalash being knocked, out of which Amrita being put at 4 places, Kumbh is celebrated every took place between Devtas and Asuras resultin (Nectar) fell down at the above 4 places.

The festival is religiously most important for the Hindus. At every Kumbh occassion, millions of Hindus take part in the celebrations. During 2004 Kumbh at Haridwar, more than 10 millions devoteed gathered at the site. Saints, priests, and yogis from all corners of India, gathered to participate in Kumbh. Haridwar is considered very holy, due to the fact that Ganga enter plains from mountains here itself.
The festival is visited by the most amazing saints from all across India. The Naga Sadhus are one such, who never wear any cloth and are smeared in ash. They have long matted hairs and are not at all affected by the extremes of heat and cold. Then there are the Urdhwavahurs, who believe in putting the body through severe austerities. There are the Parivajakas, who have taken a vow of silence and go about tinkling little bells to get people out of their way. The Shirshasins stand all 24 hours and meditate for hours standing on their heads. Spending the entire month of Kumbh on the banks of Ganga, meditating, performing rituals and bathing thrice a day, are the Kalpvasis.
It is believed that bathing during Kumbh cures the bather of all sins and evils and grants the bather, salvation. It is also believed that at the time of Kumbh Yog, the water of Ganga is charged with positive healing effects and that water at the time of Kumbh is charged positively by enhanced electromagnetic radiations of the Sun, Moon and the Jupiter, the flux of which also varies in accordance to positions and the phases of the moon, and also by the + and - signs of the sun spots.
( from http://www.kumbh2010haridwar.gov.in/index.html )

Important Bathing Dates

1) 14th January 2010 Thursday Makar-Sankranti

2) 15th January 2010 Friday Mauni-Amavasya - SuryaGrahan Snan

3) 20th January 2010 Wednesday Vasant-Panchami

4) 30th January 2010 Saturday Magh-Purnima

5) 12th February 2010 Friday Maha Shiv-Ratri Snan

6) 15th March 2010 Monday Somvati-Amavasya - Shahi Snan

7) 16th March 2010 Tuesday Nava-Samvat Arambh Snan

8) 24th March 2010 Wednesday Shri Ram-Navmi Snan

9) 30th March 2010 Tuesday Chaitra Purnima/Vaishnav Akhada Snan

10) 14 April 2010 Wednesday Mesh Sankranti - Mukhya Snan Parva

11) 28th April 2010 Wednesday Vaishakh Adhimaas Purnima Snan
---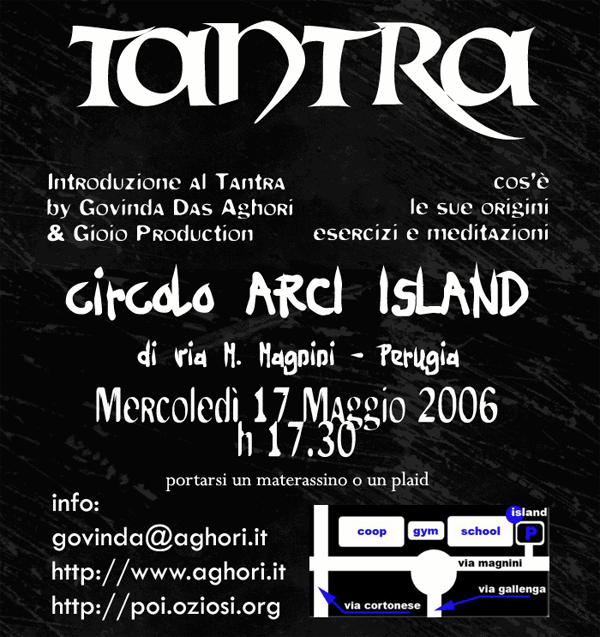 Un primo approccio al Tantra scoprendone le origini, sperimentando semplici esercizi di meditazione, conoscendo i chakra, andando oltre i fraintendimenti occidentali legati spesso ad esercizi pseudosessuali.
Un pomeriggio di studio e meditazione, di centratura sul sé.
---
\
Se sei a conoscenza
di qualche evento che ci possa interessare
spediscici una Email lo pubblicheremo qui
---